Grab a friend and join us
4.9 ★★★★★
We create bike trips we ourselves would love to go on and therefore pride ourselves in delivering the very best experience and high quality services on each of our trips. That is why our customers ride with us and come back again.
Richard, Founder
★★★★★
Natisone Bike Arena trails, famous trails full of flow and stones in the rhythm of umta-ta-ta-taaaaaa, where bikers and bikers will enjoy the real nuts, Matajur, a 1641m high mountain on the border of Italy/Slovenia and a 14km long traaaail until lunch and Bernadia TRAILS beautiful for the eyes and soul and at the same time a delicacy for a fairy tale 😍 And all this in three days full of life and bikes 👌
In addition, local guides, an excellent team, beautiful secluded accommodation, Italian architecture, food and a trip without errors and without a doubt excellent.
Natisone Bike Arena, April 2023
Vlado, Slovakia
★★★★★
An incredible experience and a great group of people. I definitely recommend and would love to go again. 🤟
Wexl Trails, September 2022
Milan, Slovakia
★★★★★
Great trip, highly recommneded!
Malaga, February 2023
Martin, Slovakia
★★★★★
Ideal vacation 🙂 Everything equipped and planned… just come and ride!
Most people don't have time for detailed vacation planning, which sometimes discourages me from getting to know new locations. In this case, accommodation, transportation, local guides were provided… and in a few days I got to know several new locations.
Just an ideal vacation, without the stress of planning. I recommend!
Rabac, Kočevje, Grožnjan, October 2022
Dano, Slovakia
★★★★★
I had a wonderful trip through Martinske Hole. Everything was well organized, excellent and experienced guides, a good choice of track due to our advanced skills, shuttle uplifts and service around it. I recommend.
Martinské Hole, 2022
Linda, Slovakia
★★★★★
Great trip, good organization, a great advantage to ride with a guide and in a group, you can ride everything you feel like and a little more, it was also great to relax in the Czarna Gora bike park – probably the first bike park with a lift for me and DH tracks, I rode very well and once again the biggest positive is the company, guiding along the trails and explaining the riding technique, for me it is definitely worth it.
Rychlebské Stezky, 2021
Filip, Slovakia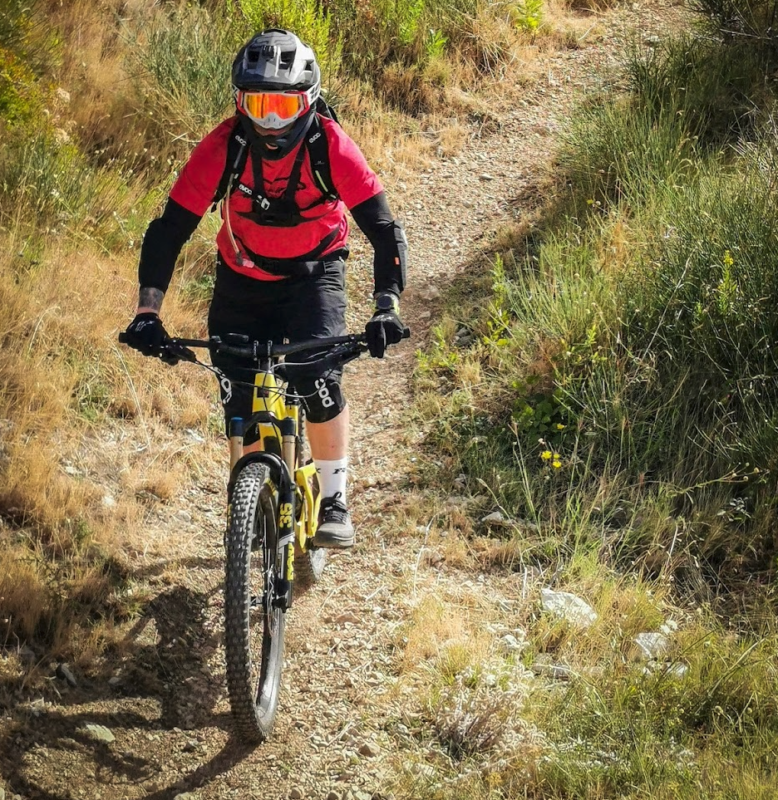 ★★★★★
The initial feeling was a change from the usual bike drill riding by myself, instead it was me + guides + friends + bikes – a positive change. I have not been used to difficult trails before. I kept thinking that the trail was a bit too steep and quite long ? It got better and the next day I "almost" felt at home. I would recommend the trip and the trails to everyone from beginners to advanced. The guides deserve 10/10 from my opinion – friendly, they didn't push me, they explained, they knew it there = great.
Omiš Croatia Trip October 2021
William, Slovakia
★★★★★
Maximum satisfaction with a trip to Martinky Turiec trails in the form of a shuttle and Kunerad trials pedalling 👌 Everything taken care of: travel, accommodation, guiding on the trails. Just enjoy the ride. I would repeat it😊
Martinské Hole, 2023
Oleg, Slovakia
★★★★★
A turnkey biking holiday, everything was great. I was with them in Rychlebske Stezky and Czarna Gora Bike Park.
Czarna Gora, 2022
Filip, Slovakia
★★★★★
I expected that it only makes sense to go to Croatia with kids because of the sea, but Omis surprised me very positively. Perun a mountain with fun trails, full of drops, jumps, rocks, but also fast passages. In addition, great weather, swimming in the sea, shuttling without having to pedal and skilled guides, who always showed us where and how best to tackle the features on the trail. And in the evening they sat with us for a local beer, which they brought for tasting.
Omiš Croatia Trip October 2021
Vlada, Slovakia
★★★★★
The trails in Omis were very surprising. The surface was rocky with various fast entertaining technical elements. Fast, less demanding passages alternated with steeper technical ones, as well as several differently demanding drops. Overall, the trip was very well thought out and organized. If I had to sum it up in one sentence, it was a super bike trip with amazing people, great food and beautiful sea.
Omiš Croatia Trip October 2021
Michaela, Slovakia
Custom Trips
These trips do not have specific dates yet and we are collecting riders to create a group. Want to go? Reach out to us
Always stay on top
Newest trips, last minute deals and reports to your inbox
Our Story
We are a couple of bike enthusiasts spending most of our free time on two wheels whether on the local trails, in bike parks or on the pump track. Since we want to share our passion with other likeminded riders we have decided to start Traildeer to combine our passion for riding and building businesses. Traildeer acts both as an adventure travel agency as well as a platform for guides internationally to promote their trips and attract riders.