Uži si s nami či už sám alebo s kamošmi tie
4.9 ★★★★★
We create bike trips we ourselves would love to go on and therefore pride ourselves in delivering the very best experience and high quality services on each of our trips. That is why our customers ride with us and come back again.
Richard, Founder
★★★★★
Natisone Bike Arena trails, famous trails full of flow and stones in the rhythm of umta-ta-ta-taaaaaa, where bikers and bikers will enjoy the real nuts, Matajur, a 1641m high mountain on the border of Italy/Slovenia and a 14km long traaaail until lunch and Bernadia TRAILS beautiful for the eyes and soul and at the same time a delicacy for a fairy tale 😍 And all this in three days full of life and bikes 👌
In addition, local guides, an excellent team, beautiful secluded accommodation, Italian architecture, food and a trip without errors and without a doubt excellent.
Natisone Bike Arena, April 2023
Vlado, Slovakia
★★★★★
An incredible experience and a great group of people. I definitely recommend and would love to go again. 🤟
Wexl Trails, September 2022
Milan, Slovakia
★★★★★
Great trip, highly recommneded!
Malaga, February 2023
Martin, Slovakia
★★★★★
Ideal vacation 🙂 Everything equipped and planned… just come and ride!
Most people don't have time for detailed vacation planning, which sometimes discourages me from getting to know new locations. In this case, accommodation, transportation, local guides were provided… and in a few days I got to know several new locations.
Just an ideal vacation, without the stress of planning. I recommend!
Rabac, Kočevje, Grožnjan, October 2022
Dano, Slovakia
★★★★★
I had a wonderful trip through Martinske Hole. Everything was well organized, excellent and experienced guides, a good choice of track due to our advanced skills, shuttle uplifts and service around it. I recommend.
Martinské Hole, 2022
Linda, Slovakia
★★★★★
Great trip, good organization, a great advantage to ride with a guide and in a group, you can ride everything you feel like and a little more, it was also great to relax in the Czarna Gora bike park – probably the first bike park with a lift for me and DH tracks, I rode very well and once again the biggest positive is the company, guiding along the trails and explaining the riding technique, for me it is definitely worth it.
Rychlebské Stezky, 2021
Filip, Slovakia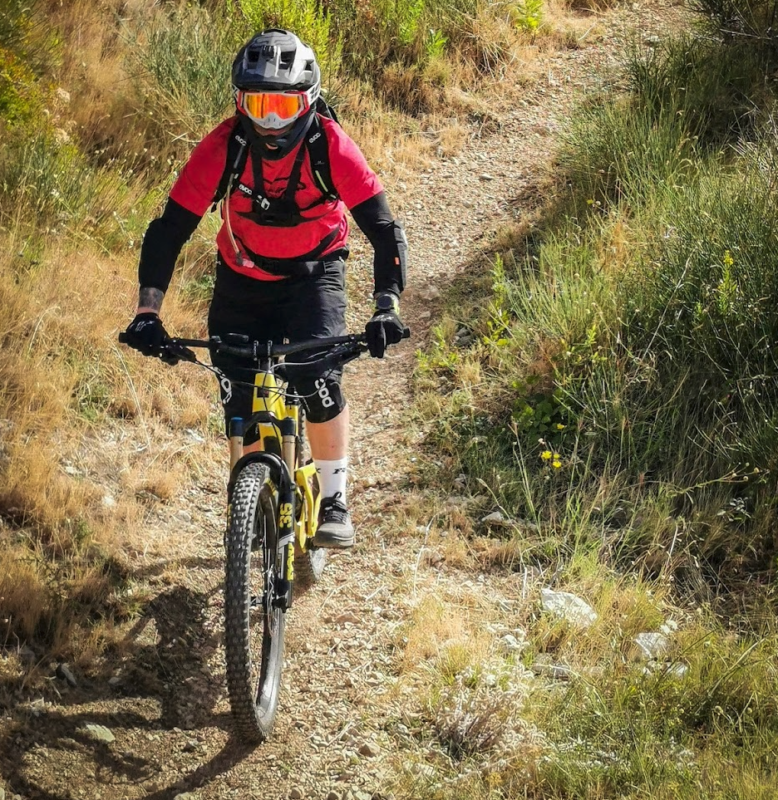 ★★★★★
Na úvod to bol hlavne šok a veľká zmena oproti jazdeniu mňa samého. Zrazu tu boli sprievodcovia, kamaráti a kopec bajkovania, takže pozitívna zmena. Nebol som zvyknutý na ťažšie traily a zo začiatku som vnímal všetky traily ako príliš ťažké, strmé a dlhé. No hneď po prvom dni sa to zlepšilo a začal som sa cítiť skoro ako doma. Odporúčil by som výlet každému od začiatočníkov až po pokročilých. Sprievodcovia si zaslúžia 10/10 - boli milí, netlačili ma, vysvetlili a ukázali čo bolo treba - tak to má byť.
Trip do Omišu, Chorvátsko, Octóber 2021
William, Slovakia
★★★★★
Maximum satisfaction with a trip to Martinky Turiec trails in the form of a shuttle and Kunerad trials pedalling 👌 Everything taken care of: travel, accommodation, guiding on the trails. Just enjoy the ride. I would repeat it😊
Martinské Hole, 2023
Oleg, Slovakia
★★★★★
A turnkey biking holiday, everything was great. I was with them in Rychlebske Stezky and Czarna Gora Bike Park.
Czarna Gora, 2022
Filip, Slovakia
★★★★★
Čakala som, že do Chorvátska má zmysel ísť tak max s deťmi k moru, no Omiš veľmi pozitívne prekvapil. Kopec zábavných trailov, plno dropov, skokov, skál, ale aj rýchlych pasáží. Do toho super počasie, kúpanie v mori, vývozy bez šľapania a naskillovaní guidi, ktorí nám vždy ukázali kam a ako najlepšie ísť. A večer s nami posedeli na lokálnom pivku, ktoré priniesli na ochutnávku.
Trip do Omišu, Chorvátsko, Octóber 2021
Vlada, Slovakia
★★★★★
Traily v Omiši boli veľmi prekvapujúce. Povrch je samá skala s mnohými rýchlymi, ale aj technicky náročnými pasážami. Zároveň tam bolo veľa flow pasáží, veľa strmých častí ako aj kopec dropov všetkých veľkostí. Trip bol veľmi dobre naplánovaný a zorganizovaný. Jednou vetou bol to super bajkový výlet so skvelými ľuďmi, výborným jedlom a pekným morom.
Trip do Omišu, Chorvátsko, Octóber 2021
Michaela, Slovakia
Výlety na mieru
Tieto výlety nemajú špecifické dátumy, zbierame jazdcov aby sme zostavili skupinu. Chceš sa pridať? Ozvi sa nám.
Maj vždy prehľad
Najnovšie tripy, last minute miesta a reporty priamo do tvojho mailu
Náš príbeh
Sme párik bajkových nadšencov, ktorí spolu trávia väčšinu voľného času na dvoch kolesách v prírode. Keďže najradšej spoznávame nové lokality či už doma alebo v zahraničí, veľmi dobre vieme aké náročné je náplanovať dobrý výlet a ešte ho aj zosúladiť s kamarátmi v tejto hektickej dobe. Traildeer sme založili preto, aby sme to celé uľahčili a zároveň sa mohli podeľiť o radosť z jazdy so super ľudmi na spoločných výletoch.
Last weekend, our first ever Bike Season Opening took place, first at the OKO Trails [...]