Last weekend, our first ever Bike Season Opening took place, first at the OKO Trails on Saturday, and then on Sunday we continued on the trails above the village of Kunerad. We were expecting an intimate friendly ride with a maximum of 15 friends, and suddenly were swarmed by over 40 enthusiastic riders impatiently waiting for a proper bike rodeo.
Such a great turnout was really unexpected, since we had "only" 27 people confirmed for the Event, and of those, we thought that half would not attend as it always is with these responses. However, we were very pleased when our expectations were by far exceeded, and are extremely grateful for such a large participation in the event. It was just a spontaneous idea and to a large extent just a kind of an experiment. Fortunately, it was a successful one, as there was plenty riding to be had and according to people's feedback, everyone had a lot of fun.
We also avoided injuries, although there were also a few spectacular falls (greetings to Bardejov), but fortunately without serious injuries.
Right from the start, we successfully managed to fight some technical problems and after some milk in the tires, bleeding of some unruly Magura brakes or finding the lost brake pads on the trail, all were riding without any problems throughout the whole weekend. Next time, do not hesitate to contact us in case of technical difficulties, as we have a well-equipped van both in terms of tools, as well as spare parts and a bike stand. Organizationally, we were surprised that people really arrived on time on Saturday at 10.30 and there was basically no need to wait for anyone.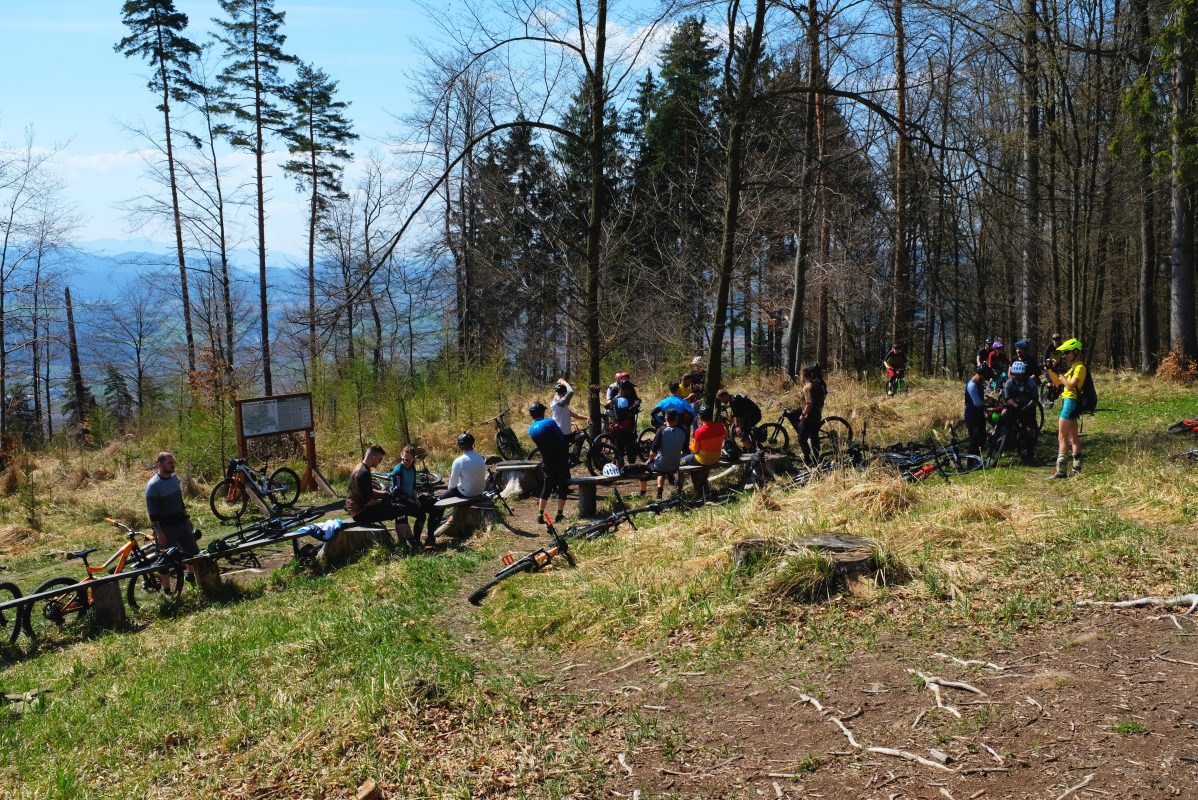 At the beginning, we half-blindly started on the uphill, as our main guide Peťo "Krajper" Krajčoviech was still handling important business matters in the morning and therefore needed to spend a few extra hours at work, but luckily we ran into each other on the way up and already started the ride in full swing.
A good 10-15 people were already waiting for us at the top near the Telekom station, and dozens of others, still full of energy and ready to ride, steadily joined us in a long snake. Even though it took us about half an hour to get ready, take a breather and throw on our protection, at least we had time to say hello to each other properly and exchange a few words before dropping into the first trail. I really appreciate that Peťo played the role of professional "guide" in a first-class manner, just like in all our paid trips.
We have received a proper briefing before each trail and stopped at each more insidious obstacle so that people could look at it and at the same time get some advice from him on how to best cross it. Yes, here and there it looked like there was no need to stop, but with such a large and diverse group in terms of abilities and also the type of fables, it is safer this way to avoid accidents. This was followed by a demonstration where Peťo pulled out his roughest smiles and a good dose of skill, and immediately after that, the "stuntmen" from all over Slovakia started chasing him headlong. Hereby, we salute Grapper, Oleg, Kiko, Aďo, Matúš and other maniacs in the best sense of the word.
Most managed to get 3-4 rides on OKO, mainly on Sweet Chilly, V3S, Nord Šolinger trails along with Paragán and Mad Max. Some even conquered all of the trails, so they would know what they were going to do next time. By far the most popular, according to passionate feedback from several riders, was Mad Max, on which, like on other trails, a lot of hard work was done here. Personally, I liked the V3S the most, even though it is true that I missed the Mad Max ride for organizational reasons (that is, I wasn't able to departurt with the guys, so at least I have a good excuse why I have missed it ;).
We are very happy that everything about grilling and refreshments above the motocross track has also worked out. The large grill borrowed from Turčan Auto z Martin, who also build out our van interior, was big enough to serve the riders as they gradually returned from the Trails. Sausages, spekačky and here and there some cheese were almost all consumed hastily, so we correctly estimated the amount of about 60 pieces of meat, 5 large loaves of bread, 4 kilos of tomatoes and a kilo of onions 🙂 Also, many thanks to Peťo Kern from Bratislava for the loan of a large car refrigerator, which cooled the 100 or so Radlers, Birells and Budvars for us. I think that even this whole low-cost setup with a tent, grill, etc. turned out great.
At this point, I would also like to thank Maťo Remenár and Vlado Marko, who took many nice photos for us throughout the weekend and invested the time and energy into bringing their camera along and shooting pics. And btw. they both rode on hardtails and have tackled even the most challenging passages with control and technique, bowing my Loose Riders baseball hat.
What was a bit of a pity is that together with our delegates Jakub, Aďo and Maťo and with the support of Grapper from Mine Trails, we've stayed camped for the night on the track, while the rest from Bardejov, Košice, Prešov and other corners spent the evening in Žilina. Nevertheless, we believe that, like us, everyone had a great evening with good drink and a good night's sleep. Next time we will try to get everyone together more so that we can also spend the evening together. Otherwise, we can only recommend sleeping above the motocross track, even though there were quite a lot of wild pigs running around maybe a little too close for comfort, but the morning view of Martinky was worth it.
On the second day, Jakub and I delayed our departure a bit, as we had to clean the grill in the morning and tidy up after us all, which took us much longer than we expected. However, we believe that no one waited too long and we will try to do better next time. Fortunately, departure was just after the announced 9 o'clock, so we were almost on time.
Again, we were extremely surprised that more than 25 people gathered on the second day, plus later a group of about 15 members from Solčany arrived, but as they could no longer follow the order of difficulty we had chosen, so we split up. As the first trail, we chose the Fairytale trail, which has a really apt name, especially now in the spring, as it looks like something from a fairy tale. Although we were disturbed a little by the search for the lost braking pads, we've managed to find them and then fix the brakes for the rest of the journey so that we could all continue together. I must highlight the role of the walkie-talkies that Krajper and I used to communicate to coordinate such a large group, which worked excellently.
We originally chose Nebojsa in combination with Ozembuch as the second trail, but the "maniacs" agreed that when there's still had some strength left, they would like to try the Valibuk. So we changed our plans and turned to one of the most difficult trails in the area, which starts in a beautiful meadow, where we had the obligatory gummy bears and caught our breath again. On this second day, in addition to Krajper, we were also accompanied by local Jožko "Kvakob" Adamička, whom we thank for his help and support in leading the group. Valibučisko turned out to be a really difficult trail and that's why we spent a lot of time looking at the obstacles, especially the two rock gardens, and with this amount of people, these sections were more like a race with an audience since the trails were surrounded by people.
Even though the original plan was to wrap it up after Valibuk, since almost all of us had a 2-3 hour journey home, we all agreed that we didn't have enough yet and therefore set off again upwards to conquer the originally planned Nebojsa and Ozembuch. The starting rock on Nebojsa is beautiful with a pass over a couple of rocks, reminiscent of Rychlebské trails. I messed up a bit the first time and played a stuntman and have thrown my bike down the 1m rock, but the second time it worked out fine. The jumpers below were having the most fun as there were several gaps that they just couldn't go around like normal people. For me, the end of Ozembuch is the pinnacle of what you can expect from natural trails, a ton of closed switches, roots at every step, a couple of well-used fallen trees and a slope where speed is a joy.
We successfully closed the whole event with Ozembuch, laughed at the best moments together and gradually said goodbye to everyone with a clear goal – home.
On behalf of our entire team, I would like to thank Krajper and Kvakob once again for accompanying us during the weekend, and all the trail builders who take care of OKO Trails and the Kunerad trails. From the voluntary contributions we collected during the weekend, we have sent 100% to them in order to support them in their further activities. If any of you knew and wanted to contribute any amount to cover our costs with the event itself (food & drinks), the account number is SK7811000000002913994918.
And finally, the biggest thanks goes to all of you who came to see us, ride with us and get to know new trails, see old acquaintances, as well as make new bike friends. We hope you all enjoyed it and hope to see you soon.
P.S. If you have an idea of the best place to hold such an event in the near future, we would be happy to consider any suggestion, as we would like to hold them once every 1-2 months.