Malaga – a place with more than 300 sunny days a year, temperatures between 15-20 degrees even in deep winter and a lot of great trails from easy and fast to real gnarly ones. The flight from Vienna takes only 3 hours and ticket prices are around €300-400 including the bike. In addition to great riding, you can enjoy excellent Mediterranean food, and after the ride or on a day off, you can enjoy the sandy beaches.
I recently became a delegate at Traildeer and I was delighted to have the opportunity to go on my first trip, coincidentally with old acquaintances, Ivo, Maťo and Vlado, with whom I have already traveled in Europe and it was always a lot of fun. What's more, we were headed to Spanish Andalusia, specifically Malaga, which, considering that I lived in Spain for more than a year, was a dream come true for me. I had already heard a lot about Malaga as a winter bike destination, but this was the first opportunity to go there and taste the trails of Andalusia for myself.
It was also my first experience of traveling with a bike on a plane, which, to be honest, at first seemed quite a challenge. In the end, however, it turned out to be quite easy no problem for the future. If you plan to fly with your bike more than once though, I definitely recommend buying a proper bike bag. Not only does one make it much easier to pack up the bike, as everything has its place, but it is also much more compact and has wheels, which makes it much easier to transport.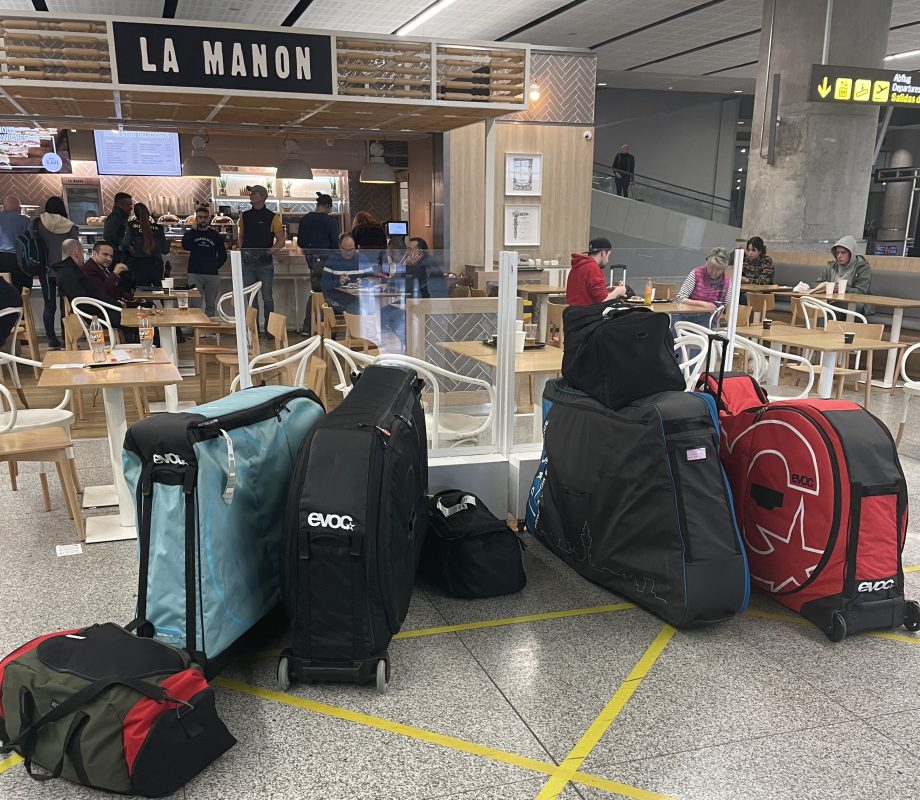 Other than the plane tickets that we bought ourselves, we had everything sorted out – from airport pick-up, to accommodation with breakfast, to escorting and exports to the trails. The guys also prepared a great riding itinerary for us, set according to our expectations, in terms of fitness and technique. As a delegate, I was in charge of the details, such as the check-ins/outs, the organization of the program after the ride, reservations of lunches and dinners,, as well as any communication with the guides and drivers.
Our 5 day trip started with an arrival in Malaga and a subsequent transfer to the city of Fuengirola, about 45 minutes from the airport. Since we arrived towards the evening, we started, as usual, with an excellent dinner at a local tapas bar, just below our accommodation. Excellent tapas of jamon, peppers and cheese as one would expect. All this, of course, with a glass of tasty wine.
It has to be said here that, like all our bike trips, good food and drink is probably the most important thing for us besides the riding, and I'm often not sure if it's a biking trip with gastronomy as a secondary program or a gastronomy trip with biking to fill-in the time between meals.
Before going to bed, we took the bikes out of our bags and started putting them together to see if they survived the trip as well as we did. Except for a minor problem with Ivo's pedals, no unpleasant surprises awaited us and the adventure could begin in the morning.
Malaga is a perfect place to ride, but if you don't want to burn your legs on your precious vacation on the first day, I recommend taking a driver and a guide, as the altitude meters pile on very quickly. Alan and his son Alexis from SierraMTB.com, who have run this family business together for decades and have thousands of satisfied customers, took excellent care of us this time around.
Before the trip, the guys asked us to adapt the already technically demanding four-day itinerary to the fact that they didn't ride as much during the winter. That's why we've put our heads together with Alan and prepared the program in a rather relaxed, but still fun style. Personally, I also did not feel completely ready for gnarly black trails, such as the long and technical 911, the demanding SRAM Test Track, or the bouncy Happy Days, which make Malaga so popular.
So on our first day of riding, we went to the trails north of the town of Ojén in a relaxed but upbeat manner. These trails were ideal for starting off after our winter slumber. Although these trails were a bit shorter, they were still nice and fun singletrails great for getting to know the terrain and getting our skeletons moving again. We rode Bora Bora, You & Me and Tramo, as well as a few others. What made these tracks interesting for us is the unusual sandy surface, which can really present a challenge when you are not ready for it. Before you know it, the wheels lose grip and you have to work hard to avoid hitting the bushes. In this seaside vegetation they also have large poisonous spines. I definitely recommend taking good protection and proper gloves. A sting won't kill you, but it will make you very itchy for a few days if you decide to have a tumble in them.
We had our first lunch in Spain, unusually, at the local gas station. But beware, not all gas stations have been created equal as this one made perfect sandwiches and to our amazement, we really enjoyed them. Subsequently, we moved to the San Anton location and from there the rest of the day was spent on a combination of trails and fire roads all the way to Fuengirola. This was the only time during the trip that the trails didn't quite fit us. We would recommend skipping them and staying around Ojén, as the ones in San Anton were too boring for us.
On the "paseo", that is, the pedestrian zone by the beach in Fuengirola, we were welcomed at the La Caracola restaurant with a proper Spanish paella, salmon tartar, swordfish and hake. Basically, it was a Slovak cod, only not in mayonnaise. I still prefer our cod any day. In addition to great food, a good dinner also requires a good drink, so two bottles of wine were also emptied right away. Then, as expected, we fell into bed and looked forward to the days ahead of us.
On the second day of riding, we were awaited by a real treat and a true MTB experience in the form of the European "Moab". The original version of the popular bike destination Moab is located in Utah, USA, and you can recognize it by its typical red stone hills and landscape reminiscent of Mars. From bike point of view, these are relatively round red rocks with good grip even when wet. Although the trails in the "Spanish" Moab do not look like they are from another planet, the surface is very similar, i.e. everything around is covered with continuous stone. It creates, as seen in the photos, very interesting formations and Moab is also therefore ideal for photography. The trail builders chose the lines here really well since they are fun, fast and not too technically demanding, so more or less everyone can handle them.
Row after row, we conquered the individual trails here: El Moab, El Moab II, Fast and Loose, as well as others. I definitely recommend both Moabs, as it is truly unique riding that you simply cannot experience anywhere else. However, the area is also interesting because of the surrounding lakes and the large Embalse Tajo de la Encantada dam. There's also a relatively difficult but technically interesting Damnbusters trail close by, ending at the dam, and if the weather works out for you, which it did not for us, it's also very photogenic here. Riding here reminded us a bit of Rychlebské Stezky, although much less technical and more flowy.
For dinner, we booked the famous Palangreros grill in Fuengirola. We chose a tasting menu of everything, consisting of five courses and two desserts. The seafood here is excellent, but the best was the shrimp soup, which I still remember today. In addition, it was completed by live music, which put the perfect finishing touch on this perfect day.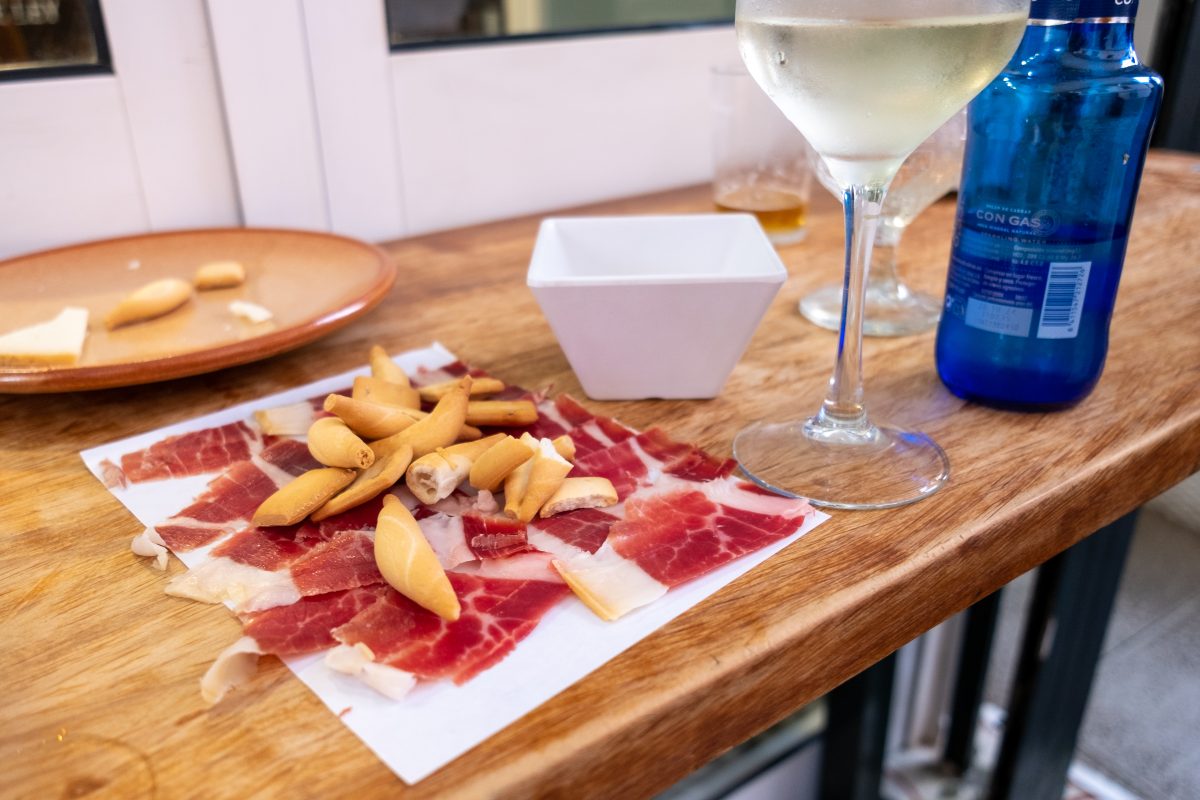 I had actually forgotten about young Will. Together with Alexis, he led us on the trails and I can't help but mention that even though none of us had technical problems all trip long, it was probably only because Will had magnetically drawn them close. In 4 days, he managed to mess up 3 bikes, tore off a derailleur, caught two punctures, and on the last day his damping had issues. Let's just say he refused to adapt his riding style to the conditions of the trail.
On the third day, the Malaga Bike Park awaited us right above the city. However, this is not a classic bike park with a lift, as you have to pedal on your own, which came in handy after two days of having our asses ferried around by the van. I would welcome such a trail center also at home to be honest. A pleasant and relatively short uphill path leads to excellent trails, such as Cortafuegos or Kawasaki, on which both beginners and advanced riders will enjoy themselves. The trails here range from simpler flow trails to those with more challenging passages with a dry and loose surface, where you have loads of line choices. You ride in an open area with lots of loose stones, but there are also trails immersed in pine forests, the pleasant smell of which accompanies you as you roll down the hill.
If I were to compare riding in Málaga with what we ride at home, the main differences are mainly a very dry surface, with a lot of loose stones and sand that you won't find at home. However, it is very location dependent as each day here was quite different. Trailbuilders have it a bit more difficult here, because the soil does not hold as well as ours, and even rare rains can do a lot of damage here. For severe droughts, whatever you build will begin to weather quickly. Otherwise, we didn't come across anything sketchy or dangerous, if there was a jump, it could always be bypassed, and the guides always pointed them out to us in the case of more difficult parts.
On our last evening in Malaga, we decided to change the cuisine and chose the Lebanese grill, which caught the guys' eye early on. Culinarily, even this restaurant did not disappoint either, and we all left for the accommodation satisfied.
For the sake of interest – dinner prices for four people ranged from approximately €160 to €180 including 2 bottles of wine, which comes to €40 per person. Not cheap, but for really good grates, the price-performance ratio is really excellent. Of course, you can also find more affordable alternatives, which certainly won't offend either, so everyone really has a choice.
Thanks to a good selection of flight tickets, we could spend even our final day on the trails unlike other trips, e.g. where you have to dedicate one entire day just for travelling one way, like with Finale Ligure or Aosta. However, in order not to spend time in the van, in the end we chose the trails above the town of Mijas, which was less than 20 minutes from our accommodation.
Although most of the trails in Mijas start in the mountains, there are two good trails near the city, the Football Pitch and the legendary SRAM Test Track. We said we'd try both and then shoot the one we like best. We tried the Football Pitch, which ends, surprisingly, next to the football field, but we were not very impressed, so we went to test the SRAM Test Track. A few years ago, Rišo from Traildeer met the Atherton siblings during training on his first trip to Malaga, which speaks for itself, but they really come here to test new bikes and components. For example, the guys from Pole Bicycles, with whom we were lucky enough to ride, regularly come here to test prototypes.
Sram is a very nice trail with more technically demanding passages, drops and berms, with a relatively loose surface and many line choices, some of which are literally neck-breaking. Simply the icing on this bike trip cake. We drove it up and down as long as we could and at around two o'clock we moved to the house to pack our bags and headed for the airport.
This concludes our bike trip to Malaga and we rate it 5/5 overall. The purpose was to leave for better weather, it stayed between 11-18 degrees and of course the thermometer jumped up to 24 degrees on the day of departure. As far as trail areas are concerned, El Chorro definitely won. The other areas were also a lot of fun and we would definitely love to come back. We will remember Malaga, but we already have other trips in front of our eyes for this year, such as Madeira, Aosta, Finale Ligure, or many cities closer to our borders.