Before departing on the trip I've expected all kinds of things, but this trip really significantly exceeded my expectations, even with a few not entirely pleasant surprises. On friday evening we've all met in Kočevje at Gostišče Tri Zvezdy, a restaurant and guesthouse in one, where we started the trip with a local beers from the popular Slovenian brewery Reservoir Dogs (Grim Reaper tasted great!). And although we knew that there were a lot of actual bears around here, we had no idea that there were so many that local restaurants served several dishes from bear meat. So even though we are not in favor of shooting these amazing animals, we did have a taste of bear ham… In truth, it tasted indistinguishable from any other game ham, perhaps with the difference that the bear's was sitting in the belly for far longer and heavier. Our bad. Another peculiarity here are the mega-large pizzas with a 3-5 cm edge and a huge amount of toppings… And for culinary fiasco we also recommend their combination of pizza and Hungarian game goulash, which is something you probably don't see every day. After a few glasses of wine and beer, we finally went to bed after more than 5 hours of travel.
Kočevje
We started our first riding day in the nearby Bike Centre Kočevje, which is basically a bike park but instead of a lift you have a shuttle service. Since there was also a long holiday weekend in Slovenia, we were not the first to arrive, and we were already joined by several Slovenians and Germans in the parking lot. Kočevje with its mega big jumps at the bottom, which even Redbull Hardline wouldn't be ashamed of, looks really impressive, although it is clear that only a very select group of crazy actually jump these and are probably most of the time not ridden at all. With each passing minute, the parking lot was filling up and we started to worry if the only shuttle on site we saw could handle the amassing crowd of riders. Later it turned out that our fears were justified, but more on that later. At the beginning, we were driven up by Tomo, who is one of the two people who started building the first trails here a long time ago, and today he continues to take care for them and, when he is not biking, he takes people up by shuttle.
As usual in bike parks and well-marked trail centers, I was doing the guiding, even though it was also my first time in Kočevje. Tomo recommended us to warm up on the easier trails first. Specifically there are 6 of them here, but like in Szczyrk, there are more or less only 3 from the top down, and each one is of higher difficulty than the previous one. Although it hasn't rained here for a week, we were warned that it could be slippery due to fog in the mornings. So we started with the Dragon's nest, or V zmajevem gnezdu in Slovenian and continued on to Veronika Flow Trail. These are fast and relatively easy trails, which despite being marked blue and green are surprisingly fun and as the guys from our group said "they wouldn't mind riding them all day at all", which in the end really happened, but more on that below.
The Dragon's Nest is a fast flow trail with some light rocky passages and a bridge, but most of the trail is really smooth, well-shaped berms, even if some of them had a little water in them. The only problem we had here were straight long transfers, basically it was almost a fire road that took you about 200-300m to the continuation of the trail. The problem with it was that it was long boring, relatively bumpy and fast, so that you come to the next section relatively shaken up. The character of Veronika Flow Trail is exactly the same, maybe a little faster in places, and mainly there are a few small jumps that add to the fun. In the lower part of Veronika, the trail then divides into 3 different tracks, which gives the whole thing a little more variety and you don't have to ride just one trail all the time. Veronika continues with berms and in the lower part you can choose one of two jump lines with table tops, one smaller and the other larger for more experienced jumpers. The other two trails starting from Veronika are Spet Doma and Pod zajlo. The first one was more fun, it starts with a wooden roller and continues fast with three jumps in the lower part – a small drop on the left and then a big and bigger gap jump, which our guys have skipped. Then it connects at the end to a 3/4 meter wooden drop, which has a very well built landing and we enjoyed it all in the group. The third trail from Veronika is Pod zajlo – it is a natural, relatively steep and more or less straight trail, which we didn't like that much, because it was nothing very special, and was also a bit slippery so the 400 meters weren't worth a repetition.
After the first return to the base, we had a bit of a disappointment since only two of us still fit in the van and the rest, together with the increasing number of riders, were standing and waiting for the second and third shuttles, which were supposed to arrive at any moment according to the staff… From just a few moments it ended up in 40 minutes of standing around, which was a bummer, esp. since you need to stand in line due to the system here and so we couldn't enjoy the small pump track or skill park instead. Fortunately after this not 2 but 3 other drivers arrived, so except for this somewhat unmanaged start of the day, everything went smoothly after that. After arriving at the trail head we decided to take on the natural trail Angry Bee or Jezna Čebela and wanted to continue on the Kanal trail, but… after not even half of the trail, the Angry Bee forced us back onto the easier trails, as it was extremely slippery due to the humidity, and after a few falls into the leaves, and more than a curses, we went back to the easy trails and rode those together with the Skill Park for the whole afternoon.
However, it must be said that Angry Bee is a superb enduro trail. It starts right from the road with a wooden downward northshore. Tomo told us that if we already don't like the entry, then we should't even continue further as it gets more difficult in the lower parts. However, we found it to be a fantastic start, as well as its continuation with relatively steeper terrain, everywhere smaller and a few bigger rock gardens interspersed with roots. The problem is that the rocks here in the area are extremely slippery when wet, so with two days of riding ahead of us, we've decided that we won't risk an injury here and postpone riding these trails until the next visit.
From Angry Bee we have managed to connect to the Fridrihštajner'ca trail, which is another green trail, so there is actually one more here that we didn't count with at first. However, this one we've found to be the easiest and not as fun as the other flow trails here, and to be honest, we didn't even realize at the time that it was a different trail, and only at the end, before finishing our ride, we went to try it and found out that it was the same trail.
We were quite sorry about loosing out on the black trails of Livodska and Squamish, which we were looking forward to the most, but since it was slippery as on ice we at least have a reason to come back next time. In conclusion, it must be said that Kočevje is a great place and it is also the only place far and wide where there is a shuttle with well maintained trails on bike park level. If wet, however, we recommend trying the natural trails, only if you have very good experience in similar conditions, or if you want to take a break from the biking for a longer time and are just looking for a way to do it as quickly as possible. Maybe a few more small things that should be improved – apart from the downtime with the shuttle, Kočevje probably has the worst system for validating tickets we've seen ever, which slowed down operations for both drivers and riders. Checking every rider's ticket and marking it with a pen every time is just nonsense… Better to sell an all-day, and half day tickets say in different colors or something like that and life would be easier for everyone. Otherwise, one more side note, at first we were quite surprised why the all-day ticket costs €40 including the entry to the trails worth €8 and only 5 rides up, but it must be said that considering that one shuttle takes a little over 20 minutes and the trails are really long from top to bottom, most people will probably not need more than the 5 runs. If we didn't have two more days of riding ahead of us and another 2 hours in the car to Rabac, we would probably buy 1-2 more rides though.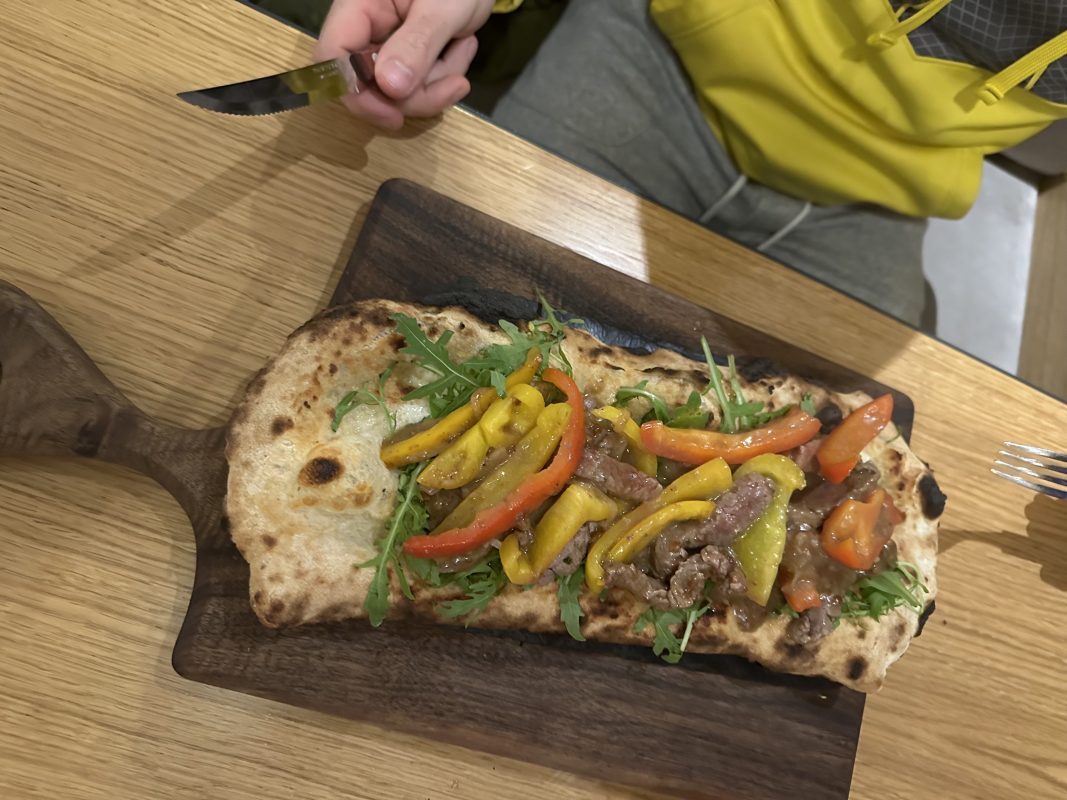 P.S. If waiting for a shuttle here best line up next to the railing on the left, as a lot of people can come in very quickly and once the shuttle appears, it like they giveaway something for free, everyone wants on board. That's why it's better to stand clearly in the line, not like us to spread out under the trees and hope that everyone will notice that you've been there first. Well, the last thing that we know is still in the work-in-progress phase is the trail marking, which could be better, but it is already on the right track.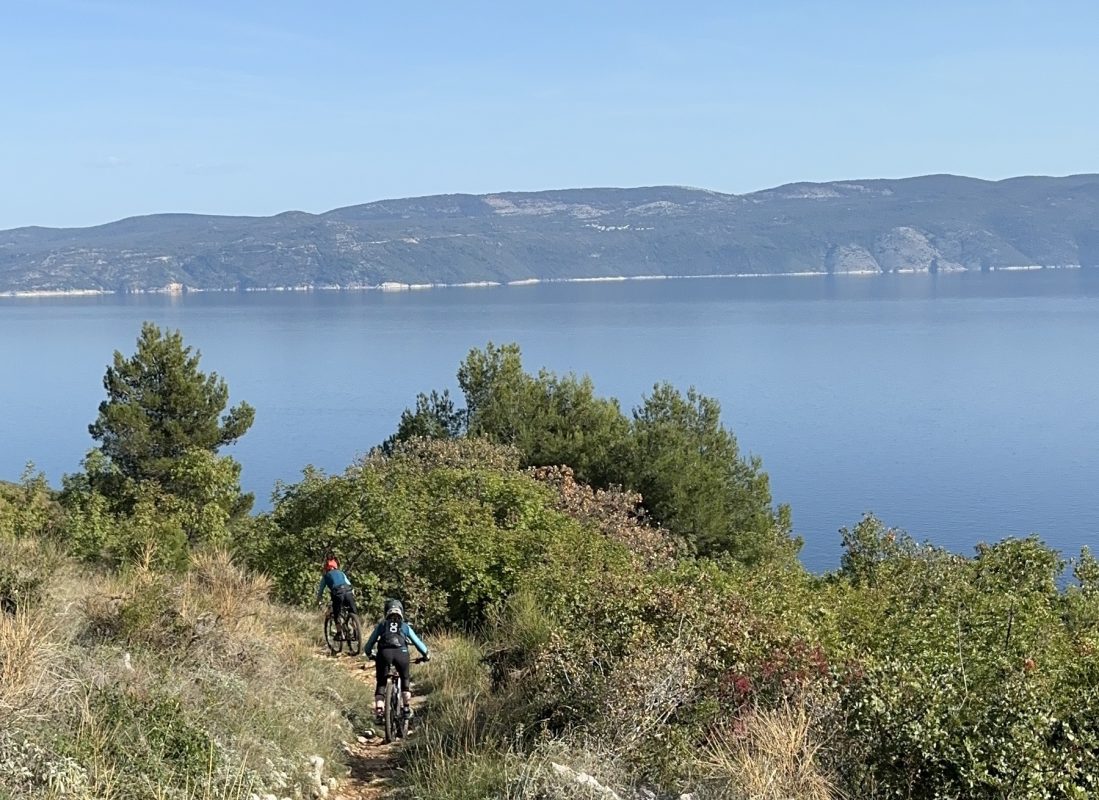 Rabac
In the early evening, we've hauled ourselves into our cars and set out to complete the second leg of our journey to Rabac, a little over 2 hours' drive from Kočevje. As it should be, we started the first night in Croatia in a very good family restaurant with excellent food called Tomažiči, wine and beer, and of course we continued into the night at the villa. And since the trails in Rabac looked relatively easy from afar, some of us decided to increase the difficulty a little with a proportional amount of wine for the night. We couldn't have wished for a more beautiful morning, as we were woken up by a beautiful blue sky and sunshine with about 15 degrees right after waking up. I still managed to do some stretching and meditation in the sun by the pool, before we had breakfast together. Less than an hour later, we were rolling towards Rabac, where our guide for the next two days, Sebastijan, was waiting for us together with Nikola the driver and their wonderful green VW T5. This time, most of us changed our full face helmets for enduro lids, since these were supposed to be easier trails, and set off on our first shuttle to the trail head above Rabac. It also takes around 20 minutes here, similar to Kočevje and subsequently Grožnjan. Sebastijan said that depending on the speed of the group, it is possible to give 3-7 runs at most, so we were aiming somewhere in the middle. Before leaving, at his warning, we pushed more air into our tires to prevent punctures, which we miraculously avoided in the end.
As it should be even with a van, our very first ride was to get up to the top of Standar above Rabac, from which the trail of the same name, Standar To Sea, starts. This trail already clearly shown the type of riding we can expect in Rabac. In short, Rabac is perhaps the most rocky area I've ever been on, mainly in the sense that there are really endless stones, either free, almost free or those still planted firmly in the ground. And it is not even a uniform rock, as is the case, for example, in the Alps, it is a matter of hundreds of pieces in different stages of looseness. In addition, they are super sharp, so it's a miracle that no one got a puncture and we all survived without injury. The Espresso trail, which we then continued, is marked as blue, but thanks to the stones and rain, it is so washed out that we can easily call it red. Though it is true that, apart from those stones, you won't find any big slopes or difficult passages here. It is simply a blue trail full of stones.
However, Rabac actually has only 2 trails from the top of the mountain down, that is, if we do not count the hill Standar To Sea, which, apart from the view around, does not make much sense to climb up to.
So there are mainly Espresso and Babe Watch, although there are two other trails that then feed into Espresso, namely Highlander and Scorpion. There used to be a Devil's Creek trail here, but due to a disagreement between the land owners and the bike park owners this trail had to be closed and is now out of order permanently. It has to be said that you don't really notice the maintenance on the trails here, but with this enormous amount of stones, it's really hard to tell if someone goes there to clean it or not. Rumour has it that the trail center lives off the sale of tires and inner tubes, as the rocks here are so sharp that people mostly come to the service center to fix punctures. But back to the trails – the Espresso trail is the kind of trail that you wouldn't write a letter home about, but it has several good things going for it – first of all, like the other trails, it has a lot of beautiful views of the sea and the islands of Cres, Lošinj and Unije even surrounded by fog which is quite unique in itself. The second thing is that Espresso is relatively less difficult and less steep than the Babe Watch, so it will prepare you well for the next ride. And finally, it is also good in that, like the short jump line and the end of the Babe Watch trail, the lower parts of all the trails here are in the forest. The stones here are mostly replaced by clay and a relatively good flow, so all the trails in the forest are fun, which could serve as a biker slogan, since it somehow fits 🙂 Espresso ends right in the trail center, so we immediately packed into the van, which has seen a lot of action, but still works reliably. The special thing about this car is that the guys give you a marker to sign on the roof from the inside, which we somehow managed to do, even though drawing is not my forte at all.
As the second trail, we went you've guessed it on Babe Watch, which is already relatively more fun, thanks to the fact that it is steeper and more difficult. For example, there is one smaller rock garden that looks relatively complicated at first, but just keep your speed here, don't think too much about it and it's no problem. There are several such natural steps or drops, and above all, as with the previous trail, beautiful views around every bend. One specific feature of the berms here is that fist-sized stones are strewn across the whole, making each point even more difficult. What we have come up with is that you have to completely ignore the stones and look even a little further on the trail than usual and the problem with the stones will disappear. After that, when stones shoot from under your wheel, you again have to overcome this imaginary barrier and bring yourself to look ahead again. The second thing is that on these trails you need speed, if you don't have it, you'll struggle and the whole thing has more of an air of suffering than good riding. However, when you release the brakes, the trail levels out significantly and the ride is immediately much more pleasant.
The lower part, similar to the Espresso, is even more fun among the trees, but it is also a bit faster and slightly more technical. From there however you need to pedal a bit more, since Babe Watch ends a little further from the trail centre. Subsequently, we also went to have a look at the Jump line, which has a relatively fun uphill trail, but once you start down the trail with three jumps and a few berms it ends so quickly that we've decided that it's not worth repeating. However, a pro tip is that the uphill trail goes past a good Croatian pub, which was one of a few that were open at all, so if you need to refresh yourself with Ožujsko, you will find it here.
As the last trail to try, we took on the Highlander, which is right next to the Scorpion trail, but according to Sebastijan, it is not interesting and that's why we didn't go there. Highlander is a nice trail, even if it is relatively short, it is a bit steeper and there are not so many stones everywhere. There are also a few technical elements for which we would repeat the trail in the future. However, after blasting down, one still has to stomp the pedals for some time before reaching the bottom of Espresso to finish up…
That's why we didn't repeat it in the end. At the end, we did Babe Watch one more time so that we could get to the most exciting part of the program, namely dipping our selves into the sea to get refreshed. Despite the fact that it almost November, the sea was about 20 degrees, so the whole group, including one female rider, went swimming for about 10-15 minutes. After riding in 25 degrees all day, the water really came in handy and prepared us for the cold beers on the promenade. It's a bit of a shame that Rabac only works until September and after that you can't find anything open here (restaurants for example), despite the fact that dozens of people were walking crowding around the promenade.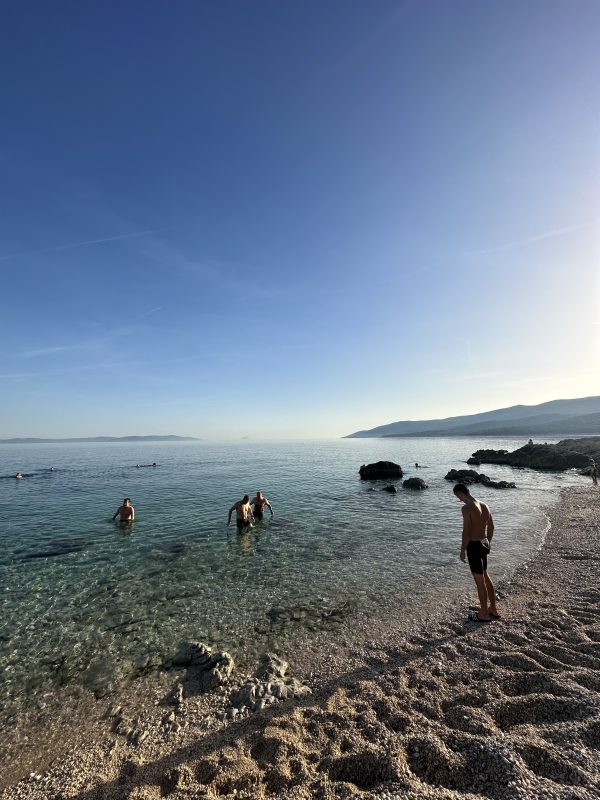 Our verdict regarding riding in Rabac is that if you feel like riding trails with wonderful views by the sea, rip the knobs off your tires as well as enjoy an endless amount of rocks and finally reward yourself with a refreshing dip in the water at the beach, then Rabac is for you ideal place. However, if you just want to have a good ride and look for great trails, Rabac is not the ideal place for that, we much more recommend Kočevje or Grožnjan (see below).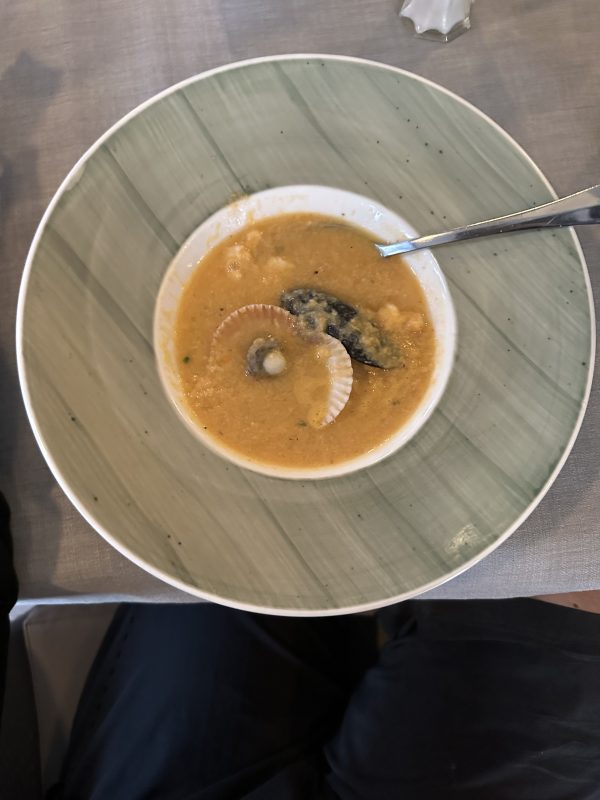 After a beer, we said goodbye to Sebastijan and Nikola and went to dinner at the Ferali restaurant, which was independently recommended to us by four locals, so that set the bar really high. At first, we were a little scared by the full parking lot and even fuller restaurant, but we got a table more or less immediately. Sebastijan warned us that it might not be a completely pleasant experience, as they had an extremely strong season and people are already quite tired from the summer, and it can be felt especially towards tourists. That's how it was, the waiter was not particularly pleasant, but the food was amazing. If you want to eat well and have a taste of local seafood or great croatian pizza, we definitely recommend Ferali. Finally even though it didn't seem like it, two days of riding and especially the harsher conditions of Rabac took a toll on us, and immediately after returning to our cabin with the pool, everyone packed into their beds after a shower and went to sleep.
Grožnjan
Our last stop on our autumn trip, which we were most excited about, were the enduro trails in Grožnjan. After check-out, we left the area around Rabac on Monday morning and headed for an hour across the inland of Istria towards Grožnjan. It is a small but picturesque village that has become very popular not so much thanks to the SloEnduro series, but rather thanks to the 128 kilometer Parenzana MTB trail (here is a link to Trailforks). There is a long history behind it, as it is a railway from the 19th century, which was subsequently dismantled by Mussolini in order to transfer it to Africa, but the ship and the rails ended up at the bottom of the sea. The remaining path was turned into a trail that connects Slovenia, Croatia and Italy and is a great attraction for those who like the historic towns, culture and beaches through which Parenzana leads ideal for XC, Gravel or Ebikes. But back to Enduro. There is a large parking lot at the top of Grožnjan, where you can also camp for free after the season, here we raised the flag and met Sebastijan and Nikola again.
As the first trail, we chose Šaltarija, which seemed to us to be the most fun from the videos, and even our guide declared that it was his favorite trail, even if he couldn't decide between it and the Kalčini trail. Although this track is the shortest of all, like all the trails here, it has a very good flow. A characteristic feature of the whole area are very narrow tracks, covered with needles from the surrounding trees with a lot of steeper sections sporting roots here and there, which was not visible from the videos and only added to the fun. The trails in Grožnjan are said to be built by one single person, and so far most of them end a bit higher up than they could, so there is an intention to extend them in future, which would make this location a complete paradise for enduro riding. Now they end only approximately in the middle of the mountain, you have to descend from there to get to the pick-up point, where the shuttle is waiting.
At the beginning, I was worried for a while that the trails would be relatively short and maybe not worth it, since you had to ride a for a few minutes down hill and then up in the van for about 15-20 minutes . This feeling disappeared immediately after we did Sv. Juraj, the next trail in line. It has two parts and is twice as long as Šaltarija and has also become our favourite trail in the area. Although it is a relatively easy trail with a blue marked top and a red medium difficulty bottom, it is really fun with a lot of drops that can be rolled, or for the brave, they can be dropped, but beware, it is mostly onto flat. But when Dano's hardtail also held up, there is no problem on the full suspension. There are also a few rock gardens in the lower part and overall it is an excellent enduro trail. Subsequently, we switched to the Kalčini trail, which was very similar to Šaltarija, but it was even more twisted, and in general there was a lot more going on with avoiding trees and it was also a bit steeper. Both me and Ivan have tested the soil here on our own skins since in some places it is really easy to push into the bike too much and your tire shoots away.
From Kalčini, you can also take another trail, Srna, which was quite interesting and I would probably mark it as red, as I found it slightly more difficult than the rest of the trails thanks to the chutes here. Srna passes through the iconic tunnel, a favorite place for photo shots from the SlovEnduro series, which riders always have a hard time to brake in before taking the left turn. From the end of the trail, you have to really push the pedals for more than a bit, but then you will connect to the second part of Kalčini, which is definitely worth the effort. The last trail we tried was Get, in our opinion probably the most demanding trail in Grožnjan. At the beginning, it is a bit stony, and then everything is relatively steep uphill, and you are constantly riding in off-camber terrain. Somewhere in the middle, we also had a minor accident, where one riders crashed into a stone wall after a relatively steep passage, but luckily it turned out fine. There is one more trail here called Petrici, which we left out on purpose, as it is said to be boring, relatively flat and washed out by the rain, so we preferred to repeat Sv. Juraj and Šaltarija, and since we still had a 6-hour journey home, ended the ride in Grožnjan with those two.

In conclusion, it must be said that each of these centers was completely unique and at the same time completely different from the other two, which made the whole trip even more interesting and very diverse in terms of riding. Thanks to the fact that in Kočevje we did not ride the harder trails due to the conditions; Grožnjan clearly won overall, where I can easily imagine spending even two days riding next time around, or at least a day and a half, since one does not have time to ride each trail twice in a day. At the same time, despite the dryness of the ground, the grip was very good, and when it rains a little in the fall, it will hold even better. Rabac is clearly a location for beautiful views, where the trails are nice, but it's more about the combo of sea views and trails that make this resort interesting. And finally, Kočevje is a fantastic resort with huge potential, which should ideally be visited in summer or at the end of it. The conditions here are not entirely suitable for riding on the more difficult trails when wet, and it is not entirely fun to ride two trails even with different endings, even if everyone in the group was satisfied and had an excellent ride on the first day.
I would like to thank our guides Sebastijan and Nikola, who accompanied us for two days and made the days more fun great fun, played some fantastic music and also told us a lot about history, culture and trails around. And of course also brought us up and down the trails safely. Also, a huge thank you to all the participants who returned to us after their previous trip and we hope that we will ride with you again soon.
P.S. We are planning to repeat this trip soon and we are currently putting together a group, so if you are interested in participating, let us know and we will send you all the information about the upcoming tour.