This is the second part of our Trip Report to Bike Arena Natisone, if you have not seen the first part you can check it out here. Continuing onwards with day 3 / Saturday where Paolo prepared a special program for us as the trails in some parts were already closed for maintenance and also because of the annual hunting season. He managed to agree with the locals that we can reopen them just for us for the day.
On top of that his son Michelle has agreed to guide us on these trails and his friend Simone was driving the shuttle in the morning, big thanks to both! Michelle did quite well in multiple disciplines when it comes to MTB racing so we were looking forward to the riding. This time we headed towards above San Leonardo with 3 fabulous trails waiting for us.
We kicked it off with Trivio, a red marked trail which was fast and as always featured quite a few rocky steeper sections. As a warm-up catching up with Michelle turned out to be quite the challenge. The trails above San Leonardo are a bit in the shade and therefore it was a bit more wet than what we were used the previous day, which only added to the experience as we had to work even harder on the trails.
Next up with went with Spik which was probably my second favorite trail in the area as it had always something going on, many narrow corners, steep chutes, all obstacles that had to be tackled at slow speed, which I love a lot. There's at least for me nothing more fun, than going down a trail and having to concentrate 100% on the features ahead, which empties the mind and has you focused fully on the spot. Almost better than meditation. This is also Paolo's favorite trail in the area which says a lot.
Finally we took up the Bunker trail, which is marked as double black diamond, though we did only the first part and then took the Baita trail in the bottom (not marked on Trailforks), avoiding the bottom part which is responsible for the difficulty rating. Bunker starts next to you've guessed it an old bunker. At the beginning it is very rocky, but relatively level so its not too difficult, but sometimes you either need to have enough speed or be very good at handling your bike around obstacles at slow or no speed, and ideally be very skilled with picking up the front and rear. The upper part of Bunker was nice, but Baita the bottom part was awesome, very fast and parts of it running through a canal, which made for a different ride compared to the other trails. Out of interest the bottom part of Bunker is super difficult because it has very steep sections with heavily exposed parts, where there's so far only a rope to prevent people from falling down. In future the guys from Natisone are planning to put up a larger barrier to ensure there's no serious accident if you overshoot the expoed part.
As it was time for lunch we went to Trattoria da Walter for another culinary experience, with very tasty dishes and good Italian coffee. This time there was no space for cake, so we postponed the sugar after the riding. After lunch we wrapped up the riding in San Leonardo by repeating our favorite trail – Spik. There are a few more trails in the area, but as they were already closed and in need of maintenance we left them for next time.
Next up we made our way towards another superb trail – Clastra. This was very close to our accommodation in the same village and it turned out to be my absolute favorite from the entire region, though you have to climb quite a bit from Clastra to get there. Fortunately we had Michelle to guide us and it was well-marked so we've found it.
Although a bit shorter with 1,3km, its a very unique quite technical trail with many rock gardens, technical sections, where you always had to tackle one feature or another non-stop. Clastra is the kind of trail where you're grinning all the time from the sheer beauty of both the nature as well as the techie ride. We will dig out some GoPro footage from the trails although it takes a while to prepare the content.
At the bottom Paolo was already waiting for us and we've decided to spend the last hours of the day back at Torreano, as we thought that the Machette trail deserves a bit more riding, and after 3 more ride it easily became the favorite of the group from the entire region. The guys did 2 more runs on the trail and then repeated Cobra & Falco from the day before closing this amazing riding day at the Gelato Palace once again. Dinner we've tried out what looked to be a very fancy joint called Agriturismo Monte del Re, which in the end turned out to be a very nice restaurant with relatively affordable prices to finish up our Italian part of the trip.
Btw. we had some issues in the morning with trying to get off a loosened Center Lock on the front rotor, and fortunately the guys at San Pietro bike shop RW Bikes were there to help, as well as providing a pair of worn out brake pads in the afternoon, even waiting for us after they were already closed. That's what great service looks like. Its always great, that you have a mechanic and a shop a phone call and a few minutes away in case of an issue.
Our verdict on Natisone Bike Arena
Before crossing the border to Slovenia I will take a bit of space and summarise the riding in Natisone Bike Arena. As we had some bike destination veterans on the trip (been all over Europe – Finale, Livigno, Nauders etc.), we have all agreed that Natisone has great potential to become a very popular destination for riders esp. for spring, autumn and possibly even winter. With only a 6 hour drive its even closer than some of our favorite destinations like Omis with 8h or Finale Ligure with almost 12h. The riding here fully supports shuttling as most places are either directly accessible from good quality roads (San Leonardo trails, or those at the bottom of Matajur) or with some minor pedalling like Machette, Vernasso, Falco or Radici or even the most amazing 749/ex-Matadown trail with the 300 meters of pushing. Trails are great, very few "flow" trails that you can find in many other places instead, but really nice fast enduro trails with many technical sections and natural features for at least 3-4 days of a stay.
Yes you don't yet have 50+ trails to choose from, but you anyway can ride only so many per day. One great thing is that we were here almost alone on the trails and only meeting bikers out of the forest, so this makes for an undisturbed experience. The Machette team has also guides who can show you the trails so that you don't have to search for the trails and have more confidence of not blasting into a too difficult obstacle. Btw. difficulty is also a great benefit of the area, as almost all trails were sort of in the middle, so everyone can enjoy them and the only factor is speed and quality of the riding.
The food is amazing as well, honestly more and more we're coming to Italy more for the food than the riding and with the prices being relatively low (main courses cost about 8-15e) as well as accommodation which can be found without a problem for very reasonable rates. Above all people are very friendly here, which in combination with all the other things is the right mix for a great bike vacation. Paolo and the Machette crew are planning to build more trails over winter and continue to refine/maintain the local trails so there will be even more fun. We have left out a number of tracks as they were now either in need of maintenance or we just didn't have enough time, so there's much more to discover for the next time. Although there's still a long way to go and a lot of support needed, we believe that Natisone has a bright bike future ahead of itself. And in the vicinity there you have Prossenico, another trail area some nice trails, Gemona or Aviano to extend your stay even further. And if you go towards Slovenia you have Robidisce (see more below), Nova Gorica or Vipavska Dolina where you can easily do 7+ days on trails without having to go further. We are very much looking forward to be back here soon!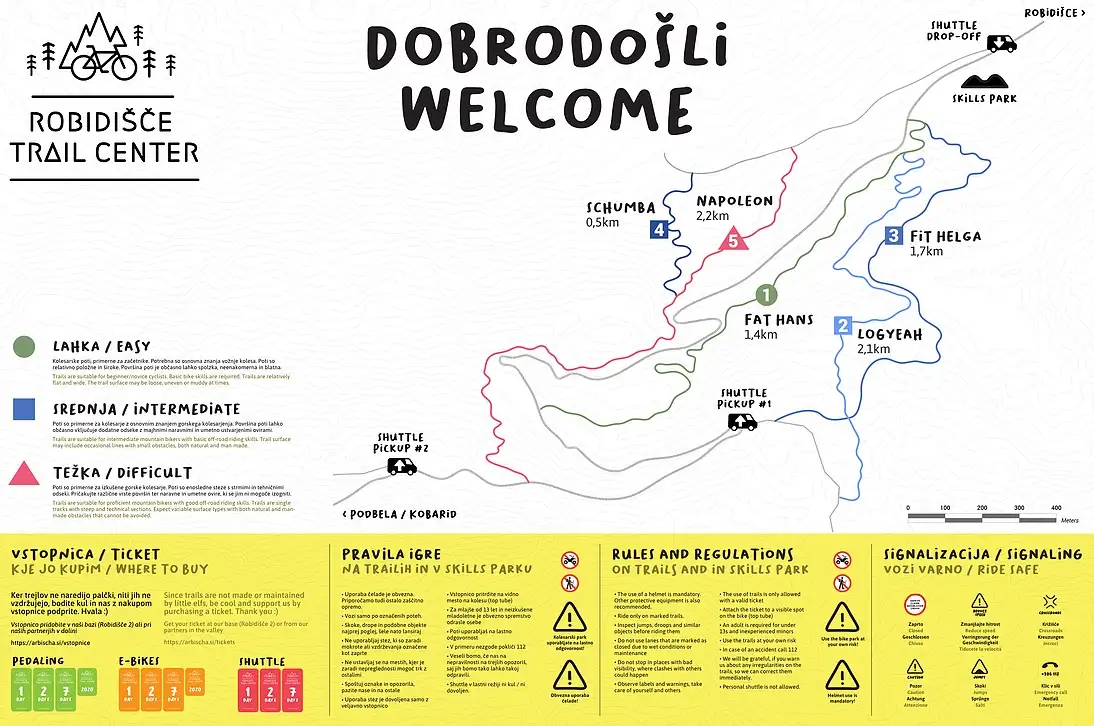 Day 4 – Robidisce, Slovenia
To continue where I left off – we've collected all our stuff, checked out and went towards the Slovenian border to a location that we've been hearing about a lot lately, but did not have the chance to try it out – Robidisce Trail Centre (kudos for the cool website!) an hour away from San Pietro. At first we've been a bit taken aback that the location is very remote and kinda out of the way of well everything.
But soon we were greeted by Tomas (sorry if I misspelled the name) from the trail center who has together with Jakkab (again my apologies 🙂 explained everything we needed to know about all the trails, the shuttling, pick up points etc.
The trail base is really nice, with a bar, great coffee, terrace, BBQ, accommodation (7 double rooms), bike wash station and everything else you might need in a trail centre. There's even a restaurant just opposite the center although we did not have the time to try out the local cuisine, which we will next time around. Robidisce has been around since 2019 and now it boasts 6 really nice trails from green to red and two shuttle pick up points. The shuttle was running all the time so we didn't have to wait for more than a minute or two before Jakkab picked us up. The way up is only around 5 minutes up and the trailer is nicely build for easy fastening of the bikes (though it could have been a little lower, as you need to fight gravity a bit to get it out again).
The more important thing though are the trails. We've started off with Fat Hans the green trail to take stock of the difficulty and riding conditions as we were told its quite slippery in this time of year. One of our riders has found this to be true already in the first corner washing out and crashing a bit, but fortunately nothing serious. Fat Hans was nice to warm up, flowy, nothing difficult, nice and smooth, but still fun for a green trail. Then we rode LogYeah, Fit Helga and Guchi all of which are very similar in terms of character and difficulty. We did get a bit confused when looking for Gucci, as we did not notice a turn on the way, but after another ride all became clear. There are some nice manmade jumps (all rollable expect the drop into Gucci from Helga), a few step ups, bridges as well as a wide wooden northshore drop/rolldown. Here you will get quite some speed so be careful in the corner at the bottom, as we tasted the dirt on our own skin, when overshooting the berm.
Even though its autumn we were delighted that the trails were all in really good condition and with very few leaves so clearly well maintained – Kudos to the crew. It is probably best to come a bit earlier than in October as it was really a bit slippery, but after a few rides it either dried up or we just got the slick top layer off with our tires. Before wrapping up the riding for the trip, we've decided that we want to try the red marked Napoleon, which promised to be a fun experience as its a purely natural trail with loads of rocks and possibly even more wetness to make it a super sketchy ride. For me it was definitely the best trail out here, though it really was quite wet and you had to take a lot of care in order not to slip and fall. On the other hand it was exactly the kind of trail that enduro riders will enjoy a lot.
All in all Robidisce was a fantastic stop for half a day or even a full day if we had had the time. I can imagine spending a day or two in the area for sharpening my technique esp. corners whether berms or off-camber, jumps and some steep chute riding. The guys also started a cooperation with another area Prossenicco just around the corner in Italy so Robidisce is definitely a great place to spend a few days of your bike vacation.
Thanks to the crew for the great day, all the info and fun on the trails!