On Sunday we've returned from what was already our second trip to the Italian & Slovenian borderlands within 3 weeks. Since this time our plans changed a little and the group was made up only of 5 riders we've decided to not take our van and trailer, and instead took up shuttling with the locals.
This turned out to be a fantastic idea, although we had to drop the Nova Gorica trails from our itinerary, but in the end I think everyone was glad we did. Paolo and his son Michelle from Bike Arena Natisone have been taking great care of us for the two days there. He is the president of the association taking care of the trails in Natisone, so we could not have gotten a better person to show us around and learn about the region. Although Bike Arena Natisone has been around for some 11 years, it is still not that well known internationally, but the trail-builder team together with Paolo have high ambitions to make it one of the most popular places to ride in Italy.
After spending the 2 days there we have to agree that the potential is there, though it will still take a lot of blood, sweat and tears to get there. Hidden away on the east of Italy next to the Slovenian borders it presents a big opportunity esp. for central and eastern European riders with around 6 hours drive from Slovakia or 5.30 from Vienna. As its not far from the sea with about 50 minutes away by car and almost no mountains between the climate is still quite mild ideal for autumn and spring. Last week we had about 25 degrees, so ideal for shuttling and very little pedalling. Winter is hit and miss, but the last one has been great for riding as well. If it rains the trails should be avoided for at least 2-3 days so that they can dry up, which happens pretty fast as the soil is more dry and rocky, therefore soaking up water much faster than for example here in Autumn.
Day 1 – Arrival
We've arrived on Thursday evening after a relatively fast drive through Austria. Part of our riding crew came early and prepared a fantastic late dinner with prosciutto and cheese for us promising a culinary experience for the next days. As is customary the first night is the welcome night so we drank a few bottles of Prosecco & local Vino too many, but all within the limit. We had a large house in Clastra all for ourselves with a beautiful terrace and everything you would need for a comfy bike stay.
Day 2 – Matajur
After a forced kick start in the morning and a proper breakfast – eggs and Italian Bresaola; we've taken a final look at our bikes to make sure all systems are operational. Paolo has picked us up at 9am and we have headed straight for Riffugio Pelizzo underneath Matajur at over 1340m asl. The views already from here are beautiful, but it is only an appetizer for what is to come on top. We had a quick coffee (which as all prices went up by €0,20 so no more €1 coffee in Italy) and learned a bit more about the Matadown race from Paolo and then started the 300 height meter hike-a-bike to the top.
Although its not exactly a walk in the park, thanks to the beautiful views the pushing of the bikes into a steep ascent doesn't hurt as much. On top we're smitten by what is one of the most beautiful views I've seen all my life, looking around at the Julian alps and picking out some of the key mountains. Of the famous Triglav only a tiny snow cap has been visible, but we've found that the Krn Mountain looks very similar to our Krivan in the High Tatras.
As always before riding we've done a brief safety instruction, briefed the group on the trail ahead, obstacles etc. and we were ready to roll. This climb together with the majestic view of the Slovenian and Italian Alps from Matajur make the whole experience truly epic aside of just the fantastic ride. We encourage everyone to go up and take in the views as they are one of the best ones we've seen thus far. The highlight of the area is the 749 trail (ex Matadown trail) from Mt. Matajur at 1641m asl with its almost 12 kilometers and around 1400 height meters downhill. It is a shared hiking trail mostly being used by bikers, its marked and can officially be ridden, just be respectful to tourists. The trail has only a few sections where you actually don't go downhill, but usually if you manage to shift gears in time its no problem to tackle the short uphills. The Matadown race held every is goes along the same lines as the MegaAvalanche Race with all the riders starting from the top at the same time and there can be only one winner.
The riding experience offers everything an enduro/trail rider might want. It starts off with a short very rocky section, which is quite daunting when starting off cold from the top, but with good control on the brakes the line can be followed easily. Then the difficulty still doesn't drop off for a bit as there are a few tight rocky switchbacks. Before entering the forrest the trail is mostly a narrow single trail on an open plain with multiple lines, some of which are washed out by rain and can present a nasty surprise if you choose the wrong one. Here it is very similar to riding on Martinske Hole in Slovakia and you need to be careful, so that your wheel doesn't drop into a deep gulley. On the way down you go along a few farm houses and a small water reservoir, that is beautifully grown over. The views are not so spectacular anymore, but the riding is getting more interesting with every meter. The real fun though starts at around the 9km line when you enter the forrest. Here its a true roots rock reggae – roots, rock gardens, steep fast sections and off-camber turns and a few big root webs – natural riding at its best. The great thing is that each part is a bit different as you descent towards Sorzento.
If you're really fast and used to very long riding you can do it under an hour when going for the 1st time. The record is 23 minutes though, which after riding it twice I still can't imagine. Already doing it under 40 minutes would be probably way too much to handle. For us with safety breaks, taking pics and just talking through the experience as well as briefing on whats ahead it took some 1.05h.
In terms of difficulty, the trail is right now marked as red as a whole, though we agreed that there were some passages that we would probably rate as black diamond – the top rock garden, some of the switches and the rock garden in the lower 3rd of the trail. But nothing too horrible, everything is visible from some distance away and can be carried down for those who don't want to do it. There are some technical up and down sections in the lower part ideal for ebikers, but most can still be tackled, though may require a bit of trial skills. The absolute end is a manmade trail with a few jumps, rollers and berms, so its the perfect ending to the trail. Before the end there are 3-4 other trail alternatives which can be chosen, though you need to make sure you don't miss it. At the end you will emerge at a very nice church with a red wooden drop/jump next to it. From there its only a short way down with a single trail into Sorzento.
Right in front of you, you will see Cascina a wonderful restaurant with amazing people and even more amazing food. You can bet on locally grown food that and meals specific to the region as well as tasty beer or wine right from the Friuli area. We did get amazing lunch, great desert (panna cotta & gnocchi with the local Gubana cake filling) some coffee which topped off this amazing first ride.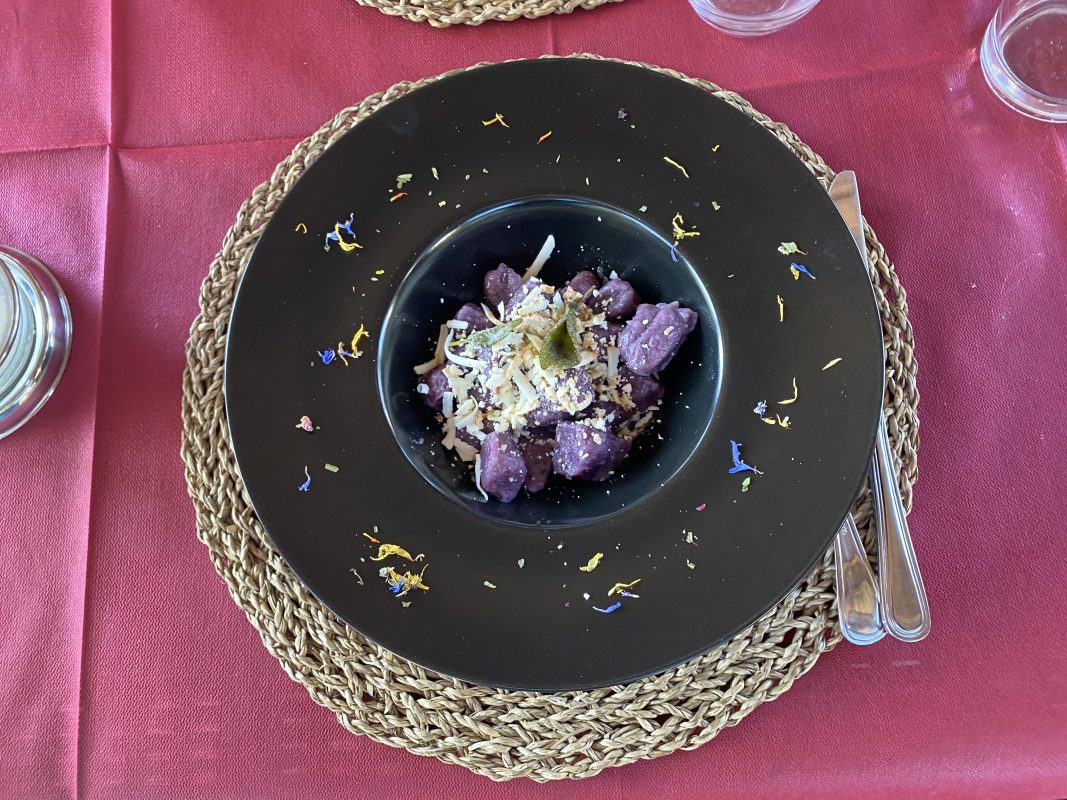 PRO-TIP: instead of going directly up to the top, the locals usually ride the lower trails like Ropa, Cava first to warm up a bit before climbing to Matajur. Even this bottom location can be shuttled, so no worries about pedalling.
Torreano/San Pietro Trails
Trails After lunch we've jumped into the van and Paolo took us up to the trails above Torreano and Vernasso. Here you have 4-5 great trails with a very similar character like Matajur, but only about 2-3km long, which is just enough before the next shuttle up. Up at Puller you need to pedal for some 10 minutes which is not a big deal as its not steep, though after 4-5 runs you start to feel it. On the Vernasso side you have Machette 3.0 and Easy Dh, which are both fantastic trails. Both have its share of rock gardens, but also have this winding left to right flare, where you need to always be on the guard, as you never know whether there will be a tight switch after the next tree (and there usually is). This makes the trails a lot of fun and also challenges your skill nicely. Cobra is a nice fast trail with a few wider steep switches that bring you to a fire road for a short transfer to both Vernasso Easy DH or then going over to the Torreano trails, which end up on the other side of the mountain. The Easy DH is loads of fun so we did it twice right away, esp. when Paolo told us that they train their Junior team over there. Its not too difficult, but it always amazes us what kids can do. Aside of a very beautiful rock garden with big-ass rocks, there are many steep sections and the trail ends at the absolute bottom right before the village.
To finish friday with something new we've decided to do at least one run towards Torreano and took up Cobra and the short transfer towards Falco. Again a very fast trail, marked as blue, although it does have its fair share of stones and some steeper sections as is the standard in this area. At the end there is a nice drop/jump and a few berms to play on. All these trails can be easily shuttled though its faster to do Vernasso with about 10 minutes up and twice that from Torreano to the top, so you need to count with the time when deciding on the trail. This is where we've put an end to the riding and headed towards the supermarket and a Gelato paradise in San Pietro for the dolce/sweet taste of Italy after all the riding. For dinner we've left for Most, a really nice family establishment that provides also camping facilities (overnight parking for 4-6 campers, showers, electricity, water release & refill etc.) as well as water activities (kayak or rafting) or e-bikes for rent. Here we finished up the day with a fantastic local meal and I've found that one of the local dishes is very similar to our traditional Halusky, which I did not have for a long time, so it seems I needed to go to Italy to taste them again.
Since this report was divided up into two parts you can find the second part about trails in San Leonardo and Robidisce here.