Since the winter weather reared its ugly head on us, we've decided to look at some new locations to ride this time in Spain. All three of the locations – Mallorca, Ainsa and Basque coast can be reached within 2,5 hours by plane from Vienna or Bratislava, so they present a perfect getaway location even only for a couple of riding days, though each of them offers riding for weeks on end. Which one would you want to ride?
Mallorca
A very popular bike spot for road bikers, but also a great place for gnarly Mountain Biking aciton. If you like it rocky, sunny and dry don't look any further. Mallorca is the place to go. You can see the ocean from many of the trails, which ads that little extra compared to Malaga for example. The most popular places in Mallorca to ride are the Tramuntana Mountains, Esporles or the Andratx area. With around 300+ marked trails on Trailforks there's plenty to choose from. But it is not only about rocks. In Peguera we loved the flowy trails with a relatively easy climb within the Paguera Trail Park to change it up compared to the rocky terrain elsewhere on the island. Although not many, but there are also quite picturesque trails near the coast so that you can enjoy the holy bike trinity – trails, sun and ocean at the same time. Mallorca is ideal during late winter, spring and autumn as the weather is just right for riding.
Ainsa, Bandares & Huesca
Another very unique location where you have plenty to choose from is the area underneath the Pyrenees mountains, or the so called Low Pyrenees mountains. Starting with the Bardenas Desert it is the closest desert to ride if you're from continental Europe and is definitely worth the visit. Its stunning unique hills are not only beautiful, but also quite fun to ride thanks to the relatively hardpacked soil on the trails. Close by is the city of Huesca, also offering quite distinctive riding among the surrounding mountains, which remind a bit of riding in Arizona. As with most of the area you will be riding rocky trails without end, but with relatively short uphills in an up and down. Finally we have Ainsa, already some 2 hours from Zaragoza by car from the airport, where in recent years the locals from Zona Zero and the guiding/shuttling companies have managed to build somewhat of a bike mecca for continental Spain. Fun, fast but still relatively technical trails, ideal for shuttling as the height meters do pile up easily coupled with tons of beautiful views of the surrounding country. Some iconic rock trails similar to El Chorro in Malaga have made this a very popular destination. Seeing the Pyreness on the horizon still covered by snow, provide the ideal background for the ride. The place has also been the location for the EWS in 2015 so it proves its legit.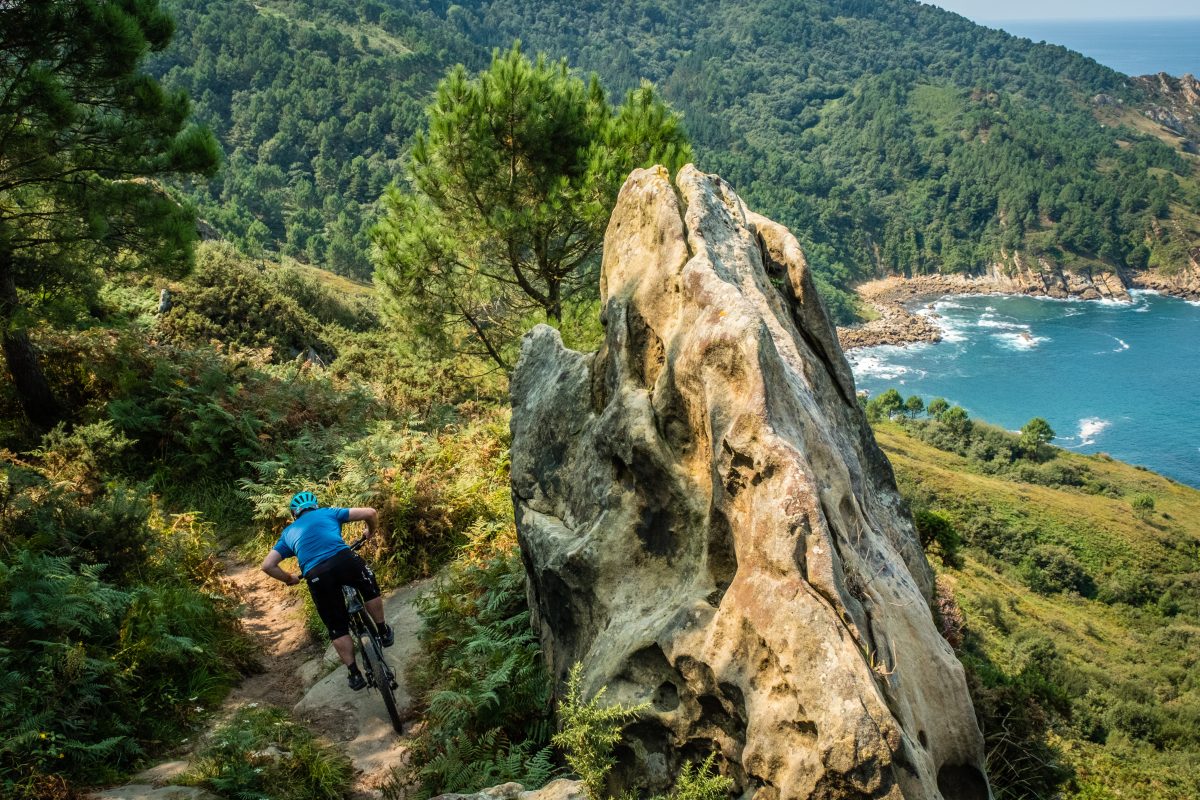 Basque Coast
Last but not at all least is the Basque coast with its epic views, gnarly and out of the three locations the most technical riding near the unspoiled town of San Sebastian. Coastal trails, long beautiful ridges reminding of Madeira, as well as iconic lighthouses perfect for sunset photo shoots on the bike are just the beginning. Higher up in the Pyrenees the whole scenery changes with high altitude riding, with long often very narrow technical trails on chunky ridge lines that put a smile on your face during the whole ride. On top of that you have the Basque culture, local out-of-the-world food and super friendly guides make this an amazing destination to visit. Of course there are shuttled trips so you can enjoy the riding over multiple days instead of killing your legs in a day or two, which isn't difficult considering the varied terrain. Considering that there are very locations with such a level of riding this close to the coast this is definitely a place we recommend a visit. As with Ainsa though the northern part of Spain is a bit colder during winter so it is ideal for early spring or autumn as in Summer it gets quite warm over here.
You can expect to see full trips to these places on our site in a matter of weeks. Which one would be your favorite?
---