Last weekend we went with 5 friends on a 5-day bike trip to Croatia, specifically to Zagreb and Omiš. We rode 3 full days and can say it was really worth it.
Based on the feedback of all participants, I can say that the trip went beyond expectations and exceeded our idea about riding in Croatia. We have spent the first day in Zagreb in the Medvednica National Park. The Zagreb enduro race is held here and thanks to the guys from Bike & Hike Croatia, we not only got up the hill 5 times in their van with a trailer, but they have also organized Andrej our MTB guide that has shown us all the trails. Although we had a bit of a weird incident at the beginning, it was quickly resolved and we started riding.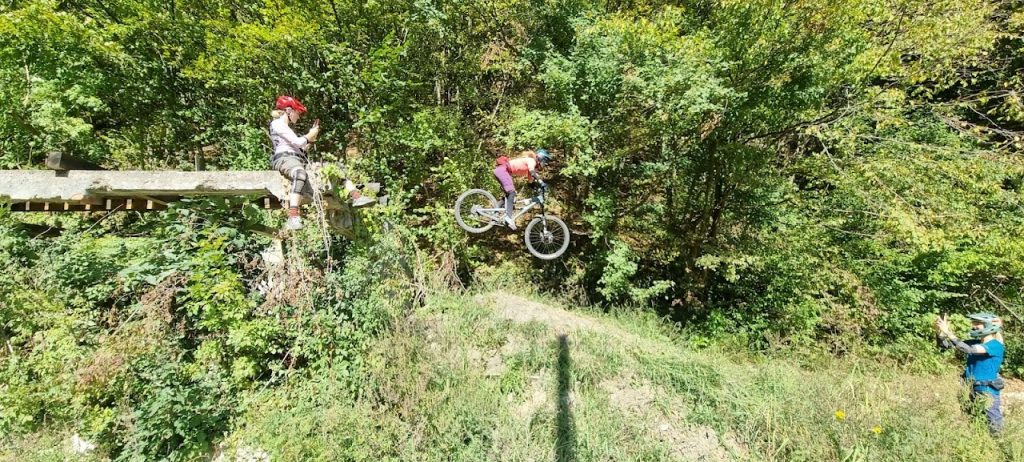 The trails in Zagreb look very similar to the ones we are used to here in Bratislava and I would compare them, for example to TBK. The main difference that Medvednica is 1000m above sea level, so most of the trails are longer and the longest official Enduro trail has a total of almost 6km. Other trails (such as Pinta, Jednotka, Dvojka or Zagorski Enduro) are a bit shorter, but very fun, mostly combining flow with natural elements, a hill of smaller drops and jumps. Every trail here has several options for going down it, so you can spend at least one here, but definitely at least two days for me.
There are also nice views of the city itself, even though the sun was quite strong and we had a slight haze, so the photos did not work out so well. As with us, we met the remains of reckless mining on one of the trails (Zagorski Enduro), but at least we know that we are not alone in this and try that local trailbuilders will be able to fix it quickly.
Medvednica is also interesting in that they certainly have one of the most expensive cable cars in Europe … With the important detail that it does not run, for various reasons, but most recently because of the problems that arose after the last earthquake last year. Medvednica is also interesting in that they certainly have one of the most expensive cable cars in Europe … With the important detail that it does not run, for various reasons, but most recently because of the problems that arose after the last earthquake last year. However, the cable car looks great and when it is finally opened, this place will be ideal for riding, as the first Croatian bike park with a cable car is planned here.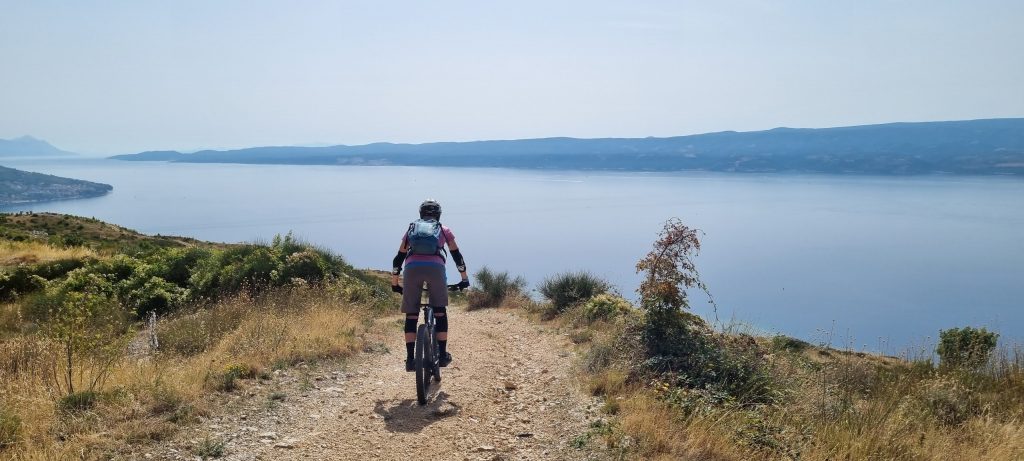 As we had almost a 5 hour drive to Omiš waiting for us, we ended our visit to Zagreb at three o'clock, stocked up some food and set off.
The main destination Omiš is very close to the well known Makarska Riviera, or opposite the island of Brac. At first glance, one could say that the riding here will not have much to offer in terms of MTB. It is very dry, here and there some shrubs and rocks wherever you look. However, the guys from Coast Riders, a local club of riders and trailbuilders, managed to build a wonderful network of fun trails on that a relatively small and low hill just underneath the Perun mountains. Though its low here, the fact that you're next to the sea makes even the 300-400 meters above sea level quite a lot for riding and the other benefit is that the locations allows shuttling without having to do any pedalling on most trails.
Thanks to Ivo, our main guide and master driver (we actually couldn't decide whether he's better at riding his bike or the van with the trailer), his partner and physiotherapist Jelena and our second guide Dino, we created two unforgettable days of riding in Omiš.
The names of the trails we forgot quickly (aside of Ponor, Stage 1 & 2, Viagra or Sv. Ivan) as we rode most of them for only 1-2 times to make the most out of the 2 riding days here. In any case, they were all fun and different and we had full days without having to do any of them twice.
Despite the open terrain with a lot of dust and trails being covered exclusively with stones of all shapes and sizes, we all agreed that there was an even better grip than in Zagreb, you just needed to get used to how the local ground behaved and let the wheels become friends with the surface.20210926_124053 –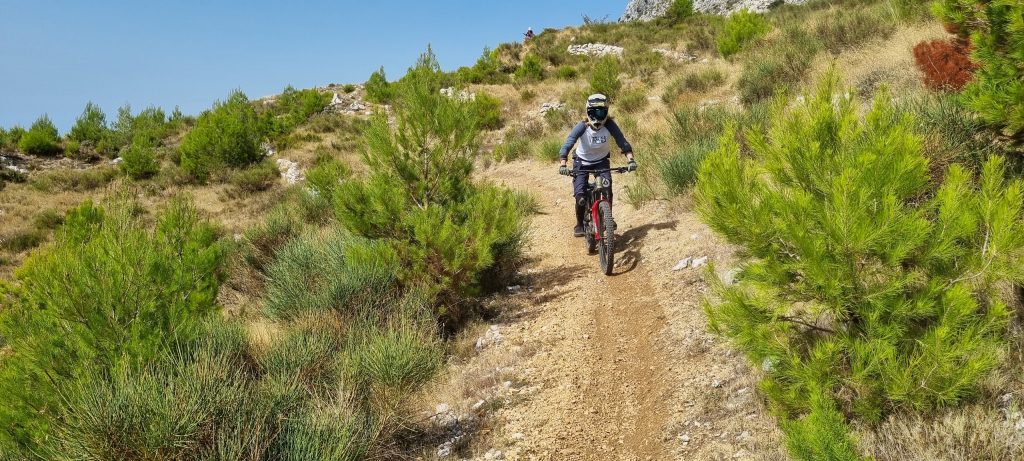 All trails are fun here and can be ridden even by moderate or intermediate riders, although the most advanced and experts will enjoy it here the most. For beginners its a bit more daunting, but possible if you ride at slower speeds and a higher dose of caution. One of our friends was quite new to this kind of riding and on Day 3 of the trip he was blazing through the trails quite nicely.
What awaits you here is a lot of flow sections, a large number of small and mid size drops, mainly due to the remains of terrace gardens, from which it is ideal to drop down to the next level. There are a handful of more technical sections mainly in the form of larger rocks that needed to be dropped, rolled. There's a really interesting double rock drop inbetween of two rocks that only one of our friends dared to try.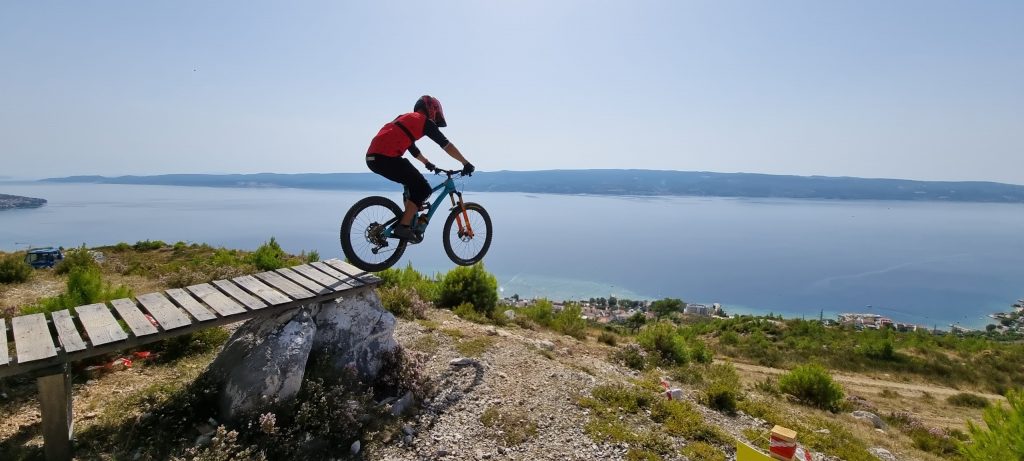 The icing on the cake in Omiš is the so-called "Jump into the sea", which is mandatory for every visitor, as it is not very high and there are epic photos from jumping it. Here and there you will also find a gap jump for lovers of air time, and many trails also go along "paved"  stone sidewalks, which will check whether you have really tightened all the screws on your bike and shake up your smile a little. You can also find several sharp switches here, such as on Viagra, the trails not the blue pill.
The highlight of the trip was the adventure on the Imber trail, where the local guys also hold an annual Mini Avalanche race, i.e. the start of competitors at once and a free ride down to the valley to get the first place.
Despite the fact that Ivo took us up to the highest point with the shuttle (about 15 minutes from Omiš) and the trail head is located on less than 700 meters above sea level, it was still a good two hours of bike and hike to the top on a steep and challenging terrain. The advantage was that we were able to see the individual sections on the way up and the guys showed us the lines and explained how to best tackle them.
Added to the terrain we had the sun burning our backs the whole way up, and after we conquered the mountain, of course, it went behind the clouds, but fortunately we have managed to get some nice shots anyway.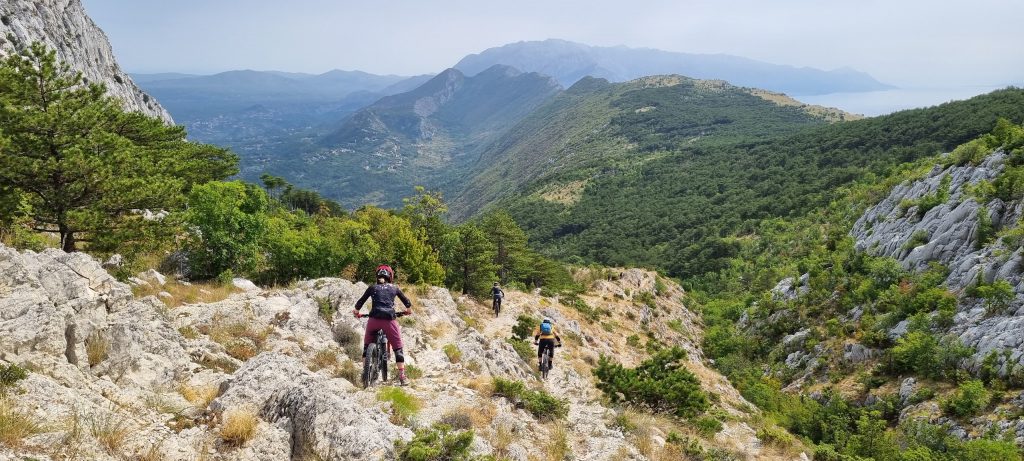 Despite the hectolitres of sweat and the rapid-weight loss program up the hill, we definitely recommend this enduro experience down the hill to any rider who dares as its definitely a 20 minute descent down with tons of technical fun sections. At the beginning, a furious ride on the rock ridge awaits, the surface of which is covered with razor-sharp rocks, but the grip is remarkably good, and except for the exposed sides and narrow "lines", it can be ridden with a smile all the way. However, we do recommend protectors, you just don't want to fall here as it could turn ugly pretty fast.
Then there is a transition to the forest with probably the most difficult features in the form of rocks to be rolled or dropped. Thanks to our guides who have stopped us in front every tricky section and demonstrated how i tis done, you should manage well or in some cases you can push the bike anyway. There are several steep passages where you can test out the brakes and at the same time several ones where you have to overcome a drop into the shute, but everything within the bounds of sanity.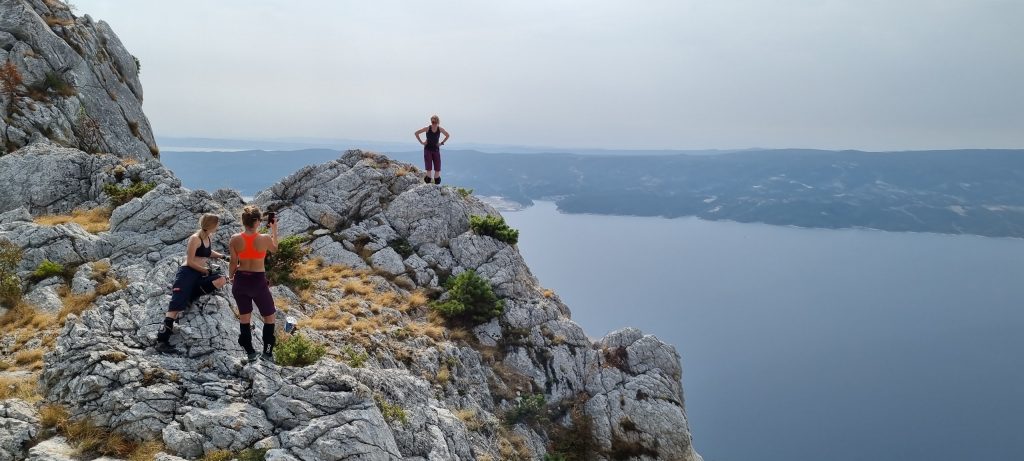 And the final part, which we rode twice, as it is already on the level of local roads and can be shuttled, was a flow trail in the local stone fashion with a number of switchbacks, several drops and pro-line sections for the bravest ones, such as very sharp switch with a double drop crossing the trail or a relatively large drop onto the trail.
Since the trip to Imber came out for half a day, we then returned to Omiš and after a hearty lunch we went on trails that we did not ride the day before near town, such as the long Sv. Ivan or Viagra trail.
Thanks to Ivo's recommendations, we also got to know super restaurants, where we stuffed ourselves with the best of local foods for a very good price, both for lunch and in the evenings. Recommendations on where to buy or eat are also a great added value of local guides.
And with accommodation right at the empty beach, which we had almost for ourselves, we have enjoyed a good swim and cooling ourselves down after each ride in the surprisingly warm sea.
Thank you very much to all participants for joining this fantastic trip and we're looking forward to see on one of the next trips. P.S. if you are interested in participating in this trip, contact us, as we are preparing two more trips for October and November and also trips to other popular winter destinations.