International travel is finally picking up as many countries open their borders to tourists in Europe (check out our previous Covid-related post to learn where you can go here). It seems this crazy "locked-up-at-home" era comes to a long-awaited end.
Therefore we've looked at the 100+ bike experiences in 10 countries that you can find on traildeer.com right now in order to pick the Top 10 rides we ourselves want to do this summer.

It was quite a challenge as all the tours out there look awesome, however we did manage to narrow it down to our 10 personal favorites. Since we have not been to these locations yet (aside of one), we could only evaluate it based on what we see from the description and pictures, as well as from what the guides locally told us about the rides.
When deciding we looked at many different factors such as:
Difficulty – Will there be a good challenge?
Fun – Will the riding be mighty enjoyable?
Nature – What does the forest and landscape look like?
Uniqueness – Is it different than what we rode already?
Personality – Are guides going to be great to ride with?
Uphill – Is a shuttle/lift available to power-up the ride?
Services – Are there any cool add-on service offered?
In the end though we went with our gut and heart and here's the outcome: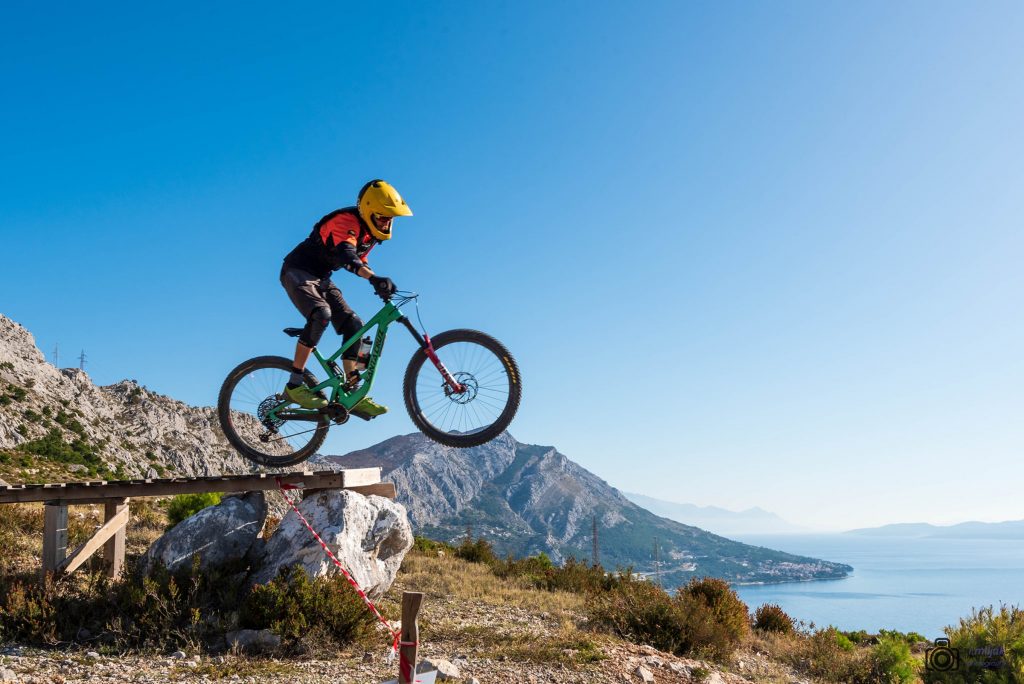 1. Omiš Trails & Sea, Croatia
We made Omiš the #1 on our list because we're just blown away every time we see Ivo's cool pics from this place. Yes there are other places combining the sea and great riding, but Crotia's rocky unyielding ground, warm temperatures quite early (from march) and late into the season (till november) have put this ride on top of our list. Aside of that there's a shuttle with a guide available so you can really get the most out of the riding day, then end it with a cold beer at the beach and make take splash into the sea. On top that Croatia has tons of other places to ride, which most of us probably have not been to like Zagreb or Rijeka, so you don't have to drive all the way down at once, but stop for a day and ride one of them. Bosnia is not far away either.
Find out more here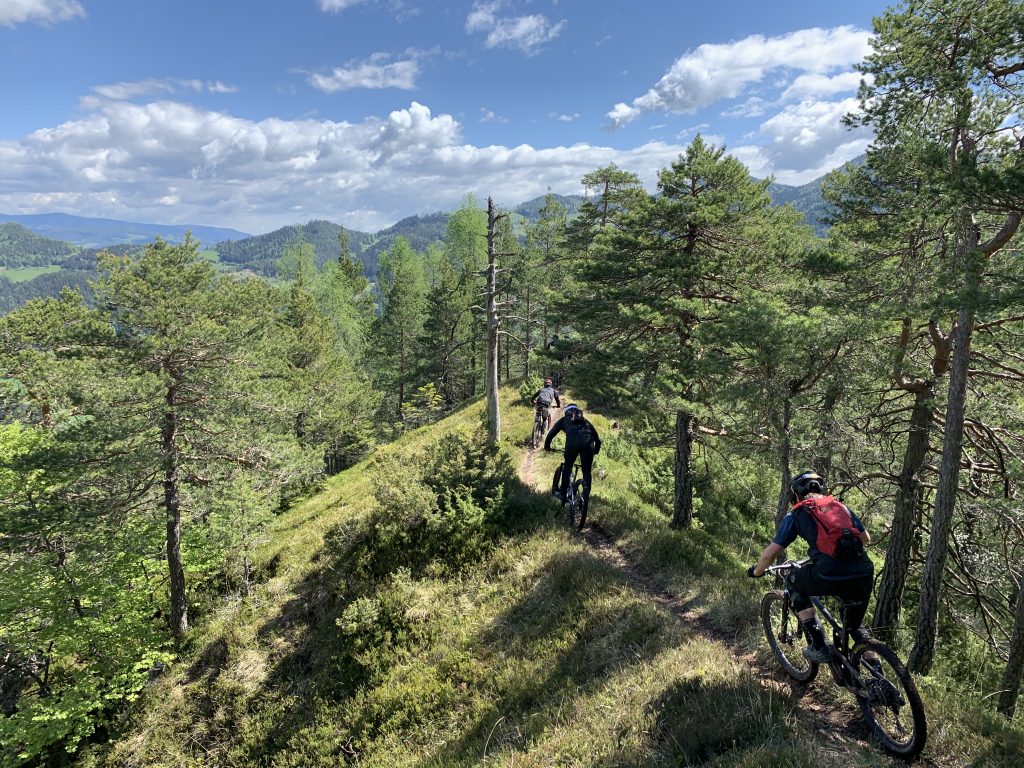 2. Črna Ridgeline Slovenia, Trail Area
If you are the type of rider that loves to be in the middle of the forest and prefers all-natural singletracks, coupled with epic views of the surrounding mountains, which we absolutely are, this tour must go into your riding bucket list right away. There are plenty of trails full of loam inside of spruce and pine forests, but even the photos cannot live up to the actual Alpine experience and the beautiful nature here. The combo of trails for the first part of the day above the town of Črna can be mixed according to your personal preferences and then in the second half you will enjoy a fantastic descent all the way into the valley ending up in the towns center. Its your choice whether to pedal or get a shuttle up the mountain organized by Jani and his team.
Find out more here
3. Cave ride inside Mt. Peca, Slovenia
There's little we can write to do justice to this ass-kicking ride inside of a freaking mine surrounded by stone all around. Though definitely daunting, this difficult all black diamond ride with some double black sections is out of this world, which it technically is – underground. Lit only by your bike and head lights, these narrow corridors will challenge your technique as well your psychology. This is definitely a must-do adventure for all the gravity riders, however there's also an easy option more along touring the cave taking a different path. Once you're out of this half-day trip you can jump on the old-miner trails that criss-cross the mountain. The Area around Mount Peca has so much to offer that you should definitely consider spending at least 3-4 days here. Jani and his guides will make it an unforgettable experience.
Find out more here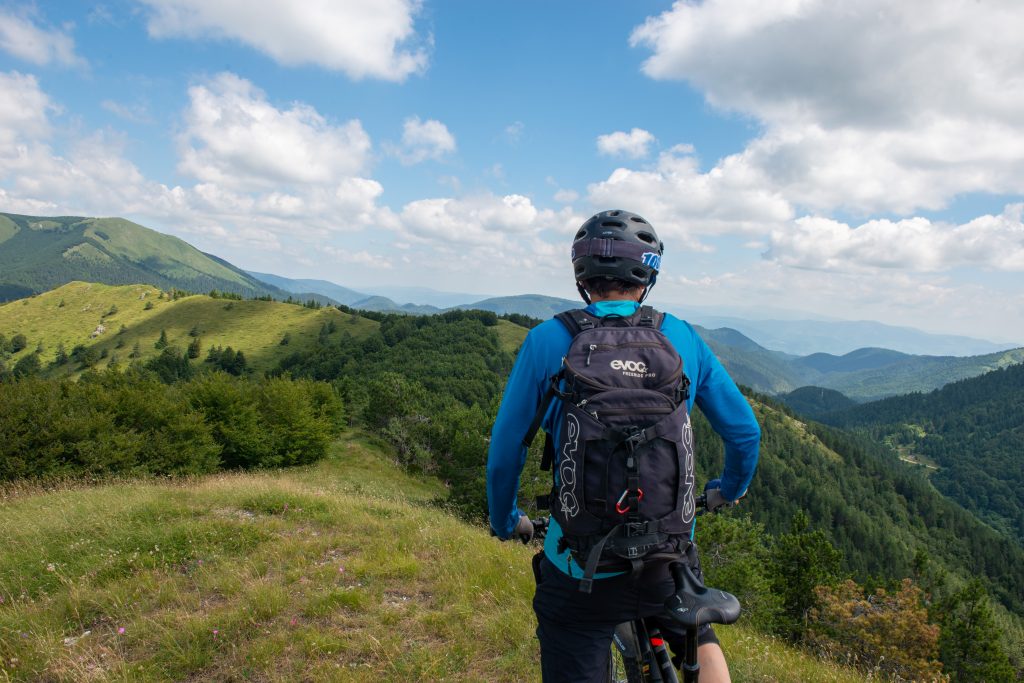 4. Kupres Trails, Bosna & Herzegovina
Kupres trails have charmed us with its untouched beauty away from the tourists. High altitude above 1800m as well as a lift or shuttle available for those who want to enjoy one of the 10 trails or tour around the surrounding mountains. The open landscape together with trails going deep into the forrest must be a joy to ride. Maybe it appeals to us because it reminds us very much of what the Slovak countryside looks like, but with a different flair to it. Aside of that you will be guided by Miro and his team, who are a very friendly bunch of guys, take care of the trails and build all the new ones. Since Bosna is not that touristy yet, the prices are great, so you can really get the most out the local foods, drinks and accommodation.
Find out more here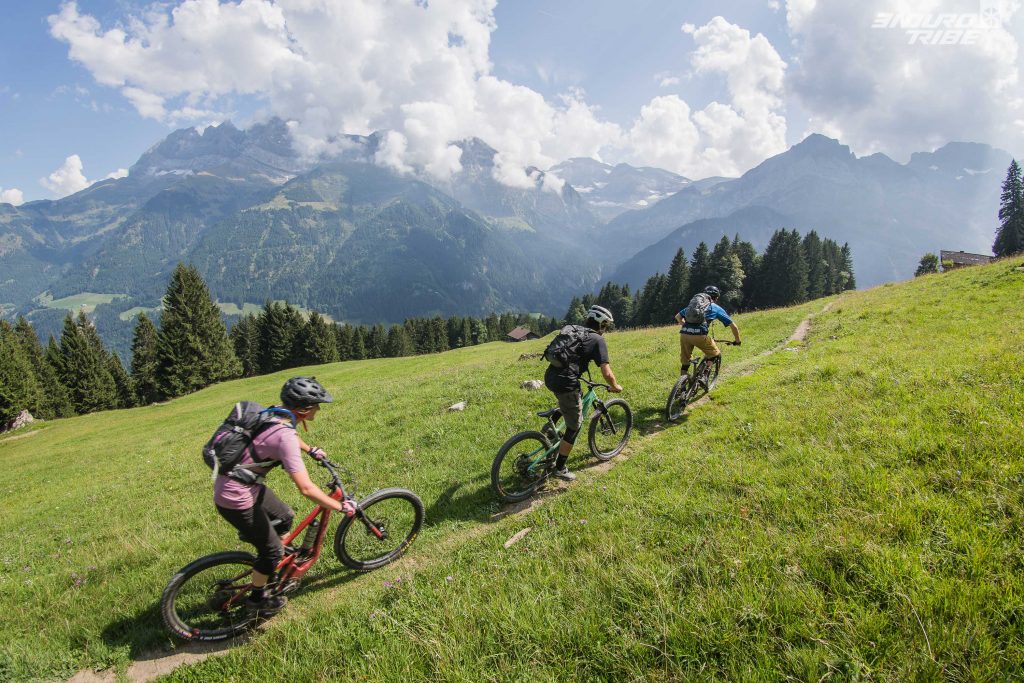 5. Round and round Morzine, France
The French Riding Mecca, Morzine does not have to be introduced much. With 650 kilometers of trails in Port Du Soleil (PDS) and 24 chair lifts its probably the largest trail area in Europe. Morzine probably the most popular location in PDS has far more to offer than the bike park though. Taking a guided day out into the mountains gives you access to a whole different experience of the area at high altitudes. For those that also want to turn their pedals and for a change "deserve" themselves the ride downhill this is the perfect trip. If you're willing to challenge your legs a bit more Jo and his crew from Rideability will show you some of the secret trails, which makes for a fantastic riding day.
Find out more here
6. Sara's Bergamo, Italy
One of the hidden gems that we're absolutelly thrilled to explore are the trails in Bergamo, near Milan. What caught our eye the most is that this area is very unknown to bikers and tourists alike, therefore making it very much worth exploring once the season hits in full. You have many options how to spend your day or even a weekend. You either ride the Lovebikepark, which was part of the Italian DH series and has a lift to take you up. The other option isto go shuttling with Sara's crew and do some freeride in the surrounding trail area. The mountains here are quite rocky and you can expect a good mix of natural technical riding with many rocks and roots as well as nice flowy sections. High up you will find the typical Italian meadows with grazing cows all around and stunning 360 views.
Find out more here
7. Martinky Trails, Slovakia
Out of the top 10 this is the only place we've actually ridden since its here in our home turf. We've chosen Martinske Hole, or Martinky as one of our top spots, since it really has everything a rider may want from one or even multiple days or riding. Though only just above 1400m on top, the views here are spectacular. In order to get up you can either do the very challenging, but adventurous uphill with hike and bike sections and even some bike carrying parts, or you can ask for a shuttle almost to the top that can be organized by the locals. You can expect natural riding at its best with a huge variety of stone, roots, off-cambers, chutes as well as many drops from rocks and fallen trees. In order to fully enjoy the experience we highly advise to take the opportunity to ride with the local trail builders.
Find out more here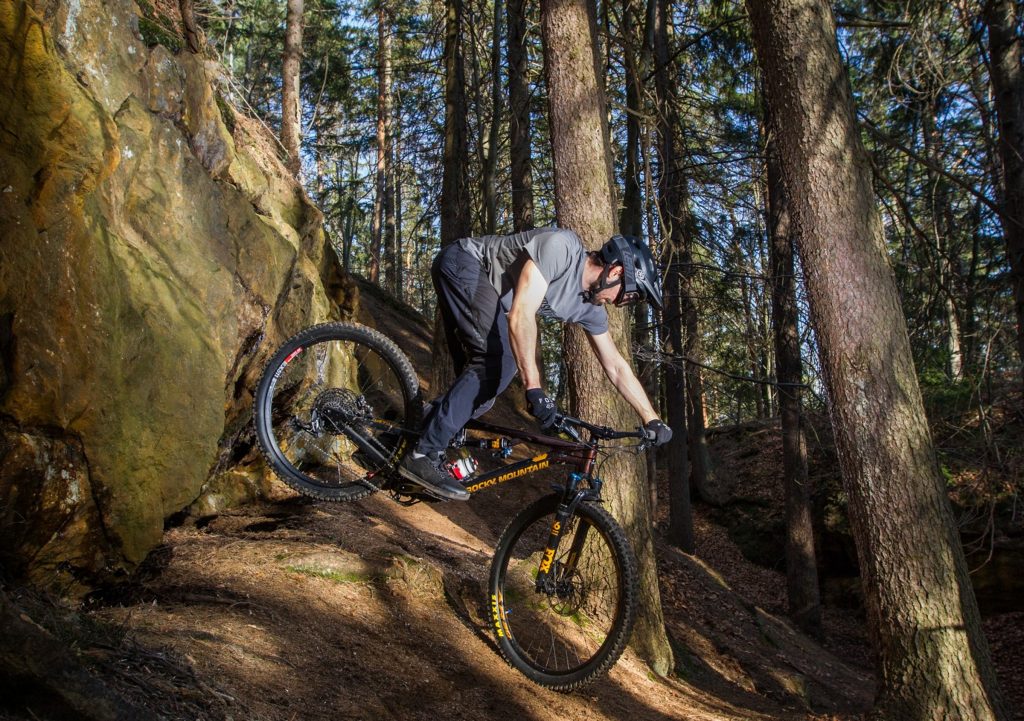 8. Szklarska Poręba, Poland
A very recent addition to our tour portfolio and our guided community, the trails in Szklarska Poręba very much stand out from the others. Adrian the local guide and trail builder put it best with the name British Columbia in Poland. This experience will take you onto unique trails in pine forests full of loam covering huge rock slabs, similar to those over in Canada. You will discover hidden trails through these wild forests, which will test your abilities going over roots and rocks that make up the ground here. The uphills in-between are pleasant enough and there's even waterfalls and rivers on the way, in which you can take a dip and cool down from all the riding.
Find out more here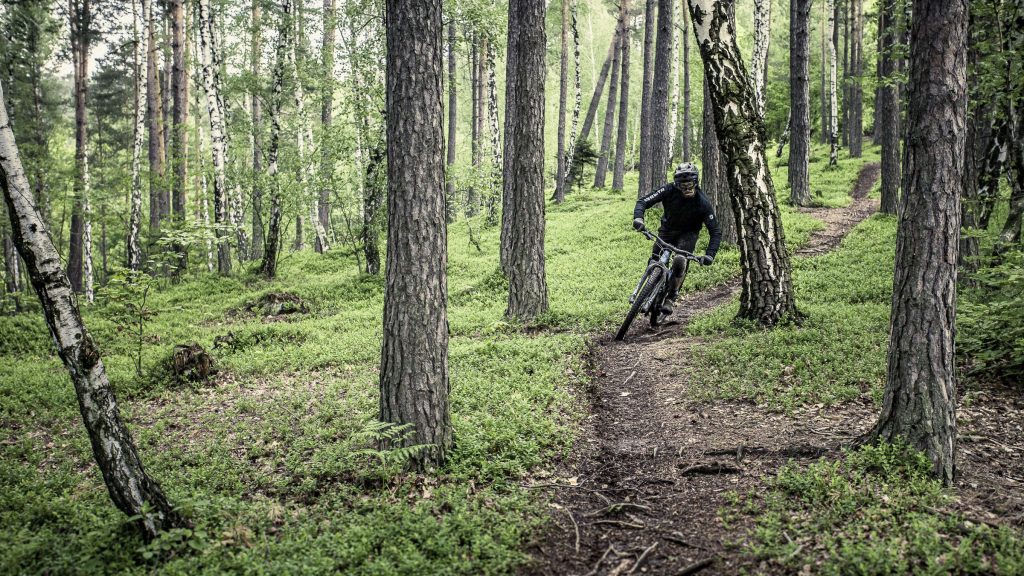 9. Hearf of Magurka, Poland
Probably everyone in Europe has heard about the Bielsko-Biala Bike Park in Poland. However only a few have so far ridden the Wilcze Ścieżki/Wolf Trails, which are only a stone throw away. This place has something very unique deep inside of the loamy forrests. In terms of what to expect, its probably best to say almost everything. From purely natural rock gardens, many root sections, down to manmade berms as welll as off-cambers adding tons of flow to the ride. Though you want catch too much air time as there are almost no jumps, this is all made up by the flow and rocks throughout all the trails. You're not going to love the uphills, however you will fall in love with the super fast and fun downhills.
Find out more here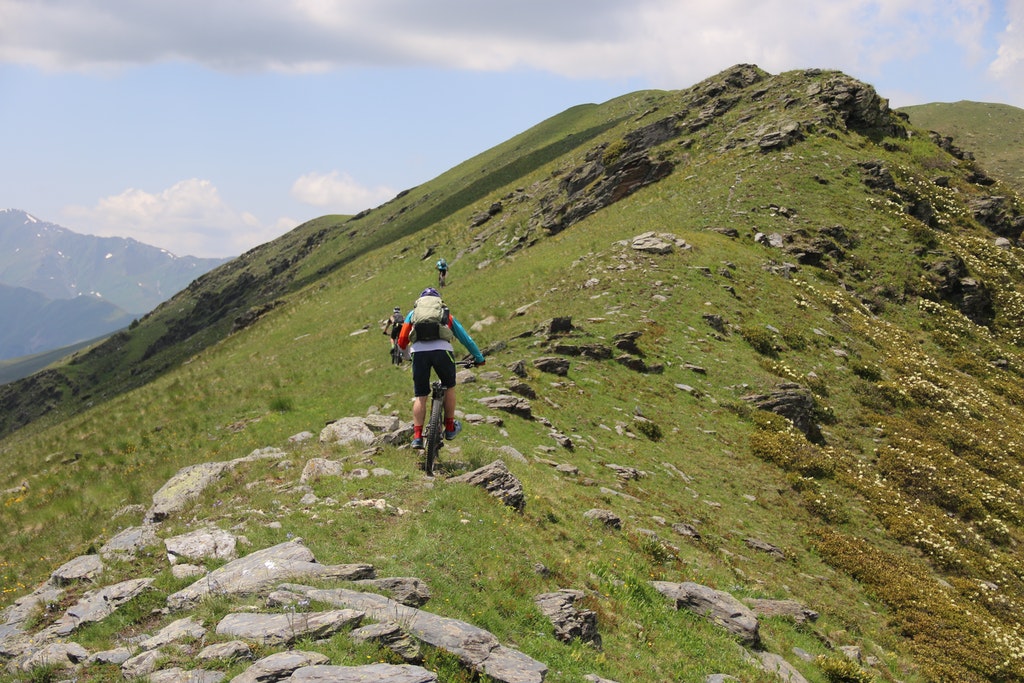 10. Caucasian MTB, Georgia
Although much further than all the riding we've mentioned before, Georgia and the riding in the Caucasian mountains is ranking high on our list, because its just what a true bike adventure should look like. Very high up in the mountains, almost not a living soul aside of you and your bike buddies far and wide. Alpine single tracks which are used mostly by shepherds already worn out in ancient times​,​ curvy descending trails on the passes and narrow wild trails through the forests. Trails with rough ground​,​ rocks and lava stones crossing wooden bridges on the river and rooty segments in pine forests. This all makes up for an experience of a lifetime. Giorgi's mountain bike guide crew at WeRide will take the best care of you and help you experience the very best Georgia has to offer.
Find out more here
That's it, our top 10 bike tours we want to do ideally this year. Which one/s do you like the most and why? Have you already been to one of them?